Japan restarted its controversial "fast-breeder" nuclear reactor on Thursday, more than 14 years after suspending operations following an accident, the Japan Atomic Energy Agency said.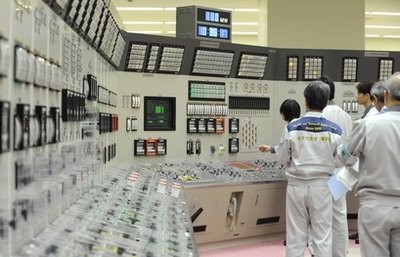 Workers gather to restart a fast-breeder nuclear reactor at central control room in the northern fishing town of Tsuruga Thursday, May 6, 2010. (AFP Photo)
Operators reactivated the prototype reactor Monju, 350 kilometres (220 miles) west of Tokyo, at 10:36 am (0136 GMT), the agency said, showing a broadcast of the relaunch to media in the capital.
The facility was shut down in 1995, less than two years after it had started generating power, following a sodium coolant leak and a fire which the operator initially sought to hide from the public.
In its cover-up, the agency released altered video footage of the fire in the facility.
Delays in repairs, strong public opposition and legal challenges long delayed Monju's resumption until the government gave the green light this year.
Unlike regular light-water reactors that run on uranium, fast-breeders use a mix of plutonium and uranium, including waste from conventional reactors, and generate or "breed" more plutonium than they consume.
Major economies initially rushed to develop the "dream reactors", but technical problems, along with fears over the proliferation of weapons-grade plutonium, have led Western nations to withdraw from the projects.