TOKYO, July 13, 2011 (AFP) - Japan's Prime Minister Naoto Kan was on Wednesday due to outline his plan to reduce the country's reliance on nuclear power and promote renewables in the wake of the Fukushima disaster.
The embattled centre-left leader has announced a full review of Japan's energy plan, under which atomic power had been set to meet over half of demand by 2030, up from about one third before the March 11 quake-tsunami disaster.
Kan, who started his political life as an environmental activist, has said he wants to make clean energy sources such as solar, wind and geothermal the new "major pillars" of the industrial power's energy mix.
The premier, Japan's fifth in as many years, is making the speech at a time when he is under intense pressure to step down from political adversaries who accuse him of having bungled Japan's response to the tsunami.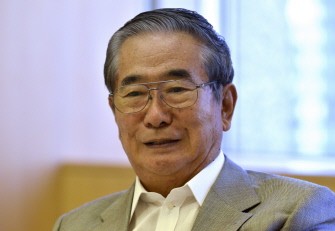 This photo taken on June 28, 2011 shows Tokyo Governor Shintaro Ishihara speaking to AFP during an interview at his Tokyo Metropolitan Government office. Tokyo's outspoken Governor Ishihara says Japan still needs atomic power.
Since the tectonic catastrophe struck, Kan has butted heads with plant operator Tokyo Electric Power Company (TEPCO) over the Fukushima Daiichi nuclear accident, the world's worst since Chernobyl 25 years ago.
The premier's skepticism about boosting nuclear power in the quake-prone island nation has also set him on a collision course with pro-nuclear lawmakers, both in the conservative opposition and within his own party.
The earthquake and tsunami crippled the Fukushima plant, which has suffered meltdowns and explosions and leaked radiation into the air, soil and sea.
With all but 19 of Japan's 54 reactors now shut, mostly for regular checks, Japan is going through a power crunch in the sweltering summer months, and there are fears that outages could slow the already limping economy.
Kan, in a press conference scheduled for 6:00 pm (0900 GMT), was expected to present what he terms a "realistic" plan to ease the nation's reliance on nuclear power, the Nikkei financial daily and other media reported.
Speaking in parliament on Tuesday, Kan said: "We should start over from scratch... We can't help but lower our reliance on nuclear."
He also suggested that nuclear power companies may need to be nationalised, calling for debate about the ability of the private sector to run atomic power plants, given TEPCO's multi-billion-dollar compensation bill.