TOKYO, Sept 14, 2010 (AFP) - Japan's Prime Minister Naoto Kan survived a leadership challenge by a party powerbroker Tuesday after just three months in office, but his government could still face new political tumult.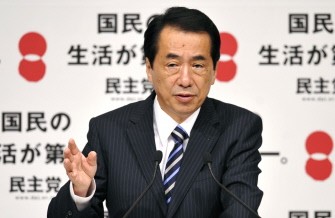 Japan's Prime Minister Naoto Kan answers questions during a press conference after his victory in the centre-left Democratic Party of Japan presidential elections at a hotel in Tokyo on September 14, 2010. AFP
Kan was re-elected by his centre-left Democratic Party of Japan (DPJ) as party president, meaning he stays on as premier, after defeating powerful faction boss Ichiro Ozawa, dubbed the "Shadow Shogun".
"As promised, I call no side," Kan told the party meeting, using a rugby term that marks the end of a game and signals an end to confrontation, bowing and appealing for party unity after a bruising campaign battle.
"I will seek the cooperation of all party members so that every DPJ member will be able to exercise their strength and work hard, with the party as one unit," said the 63-year-old, who first became premier in June.
Kan's victory comes just two days before the DPJ celebrates its first year in power, having ousted the conservative Liberal Democrats in a landslide election last summer after more than half a century of almost unbroken rule.
The "son of a salaryman" won largely because of popular support among 340,000 party members, managing only a narrow 206-200 vote margin among DPJ lawmakers, many of whom were hand-picked and coached into their parliamentary posts by Ozawa.
Under the DPJ's complex voting formula -- which gives different weight to its lawmakers, local assembly politicians and rank-and-file members -- Kan won easily, scoring 721 points against Ozawa's 491.
If Ozawa had won he would have become Japan's sixth premier in four years, continuing a "revolving-door" leadership system often blamed for reducing Tokyo's influence on the world stage.
Political observers say there is now a risk that Ozawa -- a veteran fixer who in his four-decade career has also earned the nickname "the Destroyer" for his record of making and breaking alliances -- may bolt from the DPJ.
A cabinet reshuffle is expected as early as this week, public broadcaster NHK and other media reported.
"If Kan keeps anti-Ozawa lawmakers in important posts, Mr Ozawa may eventually leave the party with his supporters," warned Shujiro Kato, professor of politics at Toyo University.
Looking ahead, Kan will have to refocus on the pressing issues his young government faces, from reviving a stuttering economy to mending a bitter row with rival China over a disputed island chain.
On the economic front, Kan must address slow growth in fast-greying Japan, which has been stuck in two decades of malaise, stagnant demand and falling prices with its export sector recently battered by a strong yen.
The Japanese currency hit a fresh 15-year high of 83.09 yen versus the dollar immediately after Kan's win, which dealers said was seen by markets as making swift currency intervention less likely.
Kan has promised to stick with his party's original people-first promise, to create jobs and strengthen social welfare, which he says will encourage spending by making people feel safe about their future.
But he has also stressed the need for fiscal austerity to reduce Japan's huge debt mountain, which has neared 200 percent of gross domestic product, the highest level in the industrialised world.
However, his government is hobbled in its ability to push laws through the Diet legislature after it lost its upper house majority in an electoral rout in July, a defeat blamed on Kan's talk of raising taxes.
"Under the hung parliament, Kan needs to seek cooperation from opposition camps, and at some point he may want to ask for help from Ozawa's camp," which has good ties with smaller parties, said Kato of Toyo University.
Kan's victory is nonetheless a much-needed boost for the leader of a party that has had a roller-coaster ride in its first year.
The DPJ's first premier, Yukio Hatoyama, lasted less than nine months and resigned for mishandling a row over a locally-unpopular US airbase on Okinawa island -- an issue that still hangs over the Japanese government.
Residents near the planned relocation site bitterly oppose it, while Washington argues the base is crucial for security in Northeast Asia, pointing to North Korea's threat and China's rising military might.
Japan itself has voiced concern over its neighbour's military strength, amid the row over the arrest of a Chinese trawler captain near a disputed archipelago.
Beijing has reacted with fury to the arrest with a series of protests, diplomatic snubs and angry editorials in the state press.