Japanese Prime Minister Shinzo Abe drew the battle lines ahead of this year's upper house elections, telling his ruling party he would not waver on reform despite his falling popularity.
Abe reiterated his resolve to draft a new constitution, promised to improve public education and to revamp the welfare framework in a speech to the annual convention of the Liberal Democratic Party (LDP).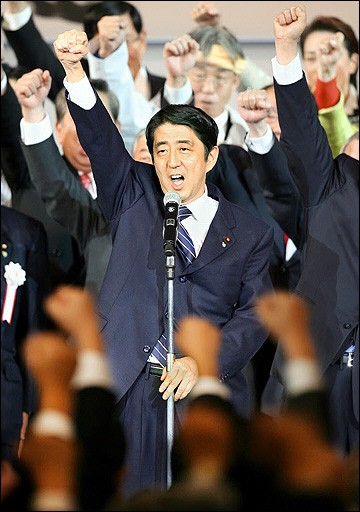 Japanese Prime Minister Shinzo Abe
"We must keep burning the flame of reform," he said. "We must do our jobs and face challenges without fear even if we experience difficulties."
Abe, Japan's first prime minister born after World War II, said he would stay the course ahead of elections in the less powerful upper house expected in July that will provide the first major electoral test of his leadership.
Since he took office in September, the government has approved a new education law to instill patriotism in schools and upgraded the defense agency to a full-fledged ministry for the first time since World War II.
Abe aims to eventually rewrite the nation's post-war pacifist constitution.
"These are issues that affect the foundation of our country. We had long worked for these but had not been able to achieve them until now," Abe said.
"I believe we could lay the foundation on which to build our future," he said.
Abe rose to power as a successor to the hugely popular former prime minister Junichiro Koizumi, who made reform of the economy his top issue and picked fights in public even with LDP insiders.
When Abe took over the top political office, he enjoyed public support rates of above 70 percent.
However, his ratings have sharply fallen since then to around 50 percent or lower, due in part to an approach of consensus building, giving voters the impression that he is succumbing to pressure from party elders.
Abe secured support from Japan's biggest business lobby, Keidanren, a traditional party ally which promised to maintain its support.
"We will cooperate to continue reforms," Keidanren head Fujio Mitarai, who is also chairman of high-tech firm Canon, said at the convention.
Abe said the government must make sure individual households feel the benefit of the current economic expansion, which has so far mainly benefited the corporate sector with little wage growth.
"We must take measures for further economic expansion so that the household sector will be able to enjoy the fruits of our reform," Abe said.