Japan's prime minister said Tuesday that it will be impossible to move all parts of a key U.S. Marine base out of Okinawa, breaking with past promises to relocate the facility outside the southern island.
It was the first time since Yukio Hatoyama became prime minister in September that he officially acknowledged that at least part of Futenma U.S. Marine Corps airfield would remain in Okinawa, which hosts more than half the 47,000 American troops based in Japan under a security pact.
Hatoyama had frozen a 2006 agreement with the U.S. on moving Futenma to a less crowded part of the island, saying instead he wanted to move it off Okinawa, or even outside the country. He has set an end-of-May deadline to announce a decision on the thorny issue that has strained ties with Washington.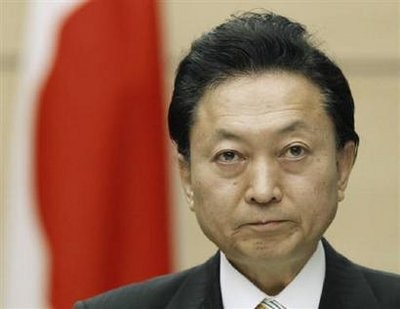 Japanese Prime Minister Yukio Hatoyama attends a joint news conference with Malaysia's Prime Minister Najib Abdul Razak in Tokyo April 19, 2010.
"Realistically speaking, it is impossible. We're facing a situation that is realistically difficult to move everything out of the prefecture," he said on his first trip to Okinawa as prime minister.
Hatoyama sought residents' understanding to keeping some of Futenma's functions on the island, while possibly moving other functions outside the island.
"We must ask the people of Okinawa to share the burden," he said. "We have reached a conclusion that it is difficult to relocate all of Futenma's functions outside the country or the island because of a need to maintain deterrence under the Japan-U.S. alliance."
He said he came to Okinawa to hear the views of the local people but added that he "felt sorry" about the message he had to bring.
Hatoyama's comments essentially signal that he is shifting back toward the 2006 agreement, which calls for Futenma's facilities to be moved to near Nago, in the northern part of the island. It's part of a broader military reorganization plan forged between Washington and the previous conservative Tokyo administration that also involves moving 8,000 Marines to the U.S. territory of Guam.
But Futenma's fate still remains uncertain.
The airfield, home to about 2,000 Marines, is one of the corps' largest facilities in the Pacific. American officials say that keeping the base in Okinawa is important for maintaining regional stability given the island's geographical location — near Taiwan and China, and not too far from North Korea.
Hatoyama faces strong local opposition to keeping Futenma on the island. Late last month, about 90,000 residents and local officials gathered in the town of Yomitan to demonstrate their support for moving the base off Okinawa, and earlier this year an anti-base candidate was elected mayor of Nago, near the proposed relocation site.
Tensions on Okinawa over the huge U.S. military presence go back decades, but a furor erupted over a 1995 rape of a 12-year-old girl, in which three American servicemen were convicted. Adding to the discontent was a 2004 crash of a U.S. helicopter that burst into flames on a university campus, although it caused no injuries on the ground.
The prime minister could face division within his Cabinet as well, because the leader of a junior coalition partner has threatened to withdraw from the government if Futenma remains on Okinawa.
Hatoyama said he explained the latest government position to gain understanding by Okinawa Gov. Hirokazu Nakaima, but did not discuss details of the airfield's possible relocation sites.
Some Cabinet members have indicated that the government now plans to roughly follow the 2006 deal to move Futenma to an area near Camp Schwab on Okinawa's northeastern coast, with some changes to construction methods.
Hatoyama also for the first time officially acknowledged Tuesday that his government is considering moving some of Futenma's functions to Tokunoshima island, north of Okinawa, saying he is holding talks with key officials later this week. The plan already has faced strong opposition on that island, where half of its 30,000 residents held a massive protest last month.
Nakaima urged Hatoyama to remove Futenma's potential danger to its neighborhood as quickly as possible.
"Relieving the excessive burden of hosting U.S. bases is a strong desire of the Okinawan residents," he said. "We would like (the government) to address the issues one by one."