Japan said Wednesday it will hold talks with North Korea next week in Ha Noi, Viet Nam hoping for progress in a row over abductions that has led Tokyo to shun a six-nation nuclear deal with Pyongyang.
"After coordinating with North Korea, the first working-level talks for the normalisation of the Japan-North Korea ties will be held on March 7 and 8 in Hanoi," Chief Cabinet Secretary Yasuhisa Shiozaki told a press conference.
A prepatory meeting will be held in the Vietnamese capital on March 6, he added.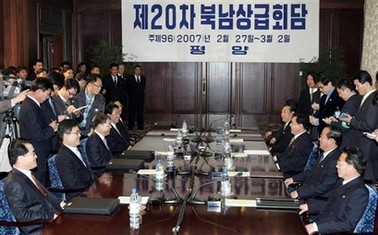 South Korean Unification Minister Lee Jae-joung, third from left, talks with his North Korean counterpart during their meeting in Pyongyang, Wednesday
Japan is expected to use the forum to push for answers on the abduction of its citizens by North Korea, which says the issue is closed.
The talks are one of five discussion groups set up under the February 13 six-way accord in Beijing, under which North Korea promised to shut down a nuclear reactor in exchange for fuel aid.
Japan has refused to fund the deal due to the row over the abductions, which stir emotions among the Japanese public. Japan had been a major funder of a collapsed nuclear deal with North Korea reached in 1994.
North Korea has admitted to abducting 13 Japanese civilians in the 1970s and 1980s to train its spies. It returned five victims and their families in 2002 and says the others are dead.