Japanese lawmakers plan to visit North Korea next week, hoping to discuss with the communist state its nuclear status and a row over kidnappings, a broadcaster said Wednesday.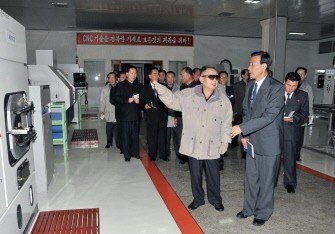 This undated picture released by North Korea's official Korean Central News Agency on October 31, 2011 via the Tokyo-based Korean News Service (KNS) shows North Korean leader Kim Jong-Il (C) visiting the Huichon precision machine plant in Chagang, North Korea
Members of a bipartisan group, formed to promote Tokyo's diplomatic normalisation with Pyongyang, will be led by lower house vice speaker Seishiro Eto and will visit the North Korean capital from November 9, TV Asahi reported.
The Japanese delegation, of which other members were not known, plan to meet senior officials of the North Korean government and the ruling communist party, it said, citing unnamed sources.
They plan to discuss Pyongyang's nuclear development programme and the kidnapping dispute, it said.
North Korea has admitted to kidnapping 13 Japanese in the 1970s and 1980s. It allowed five victims to return home but said eight more had died -- a claim Japan has rejected.
Japan insists North Korea is still hiding survivors and has abducted more people than it admits, in a dispute that has hardened positions and stalled talks to end Pyongyang's nuclear weapons programme.