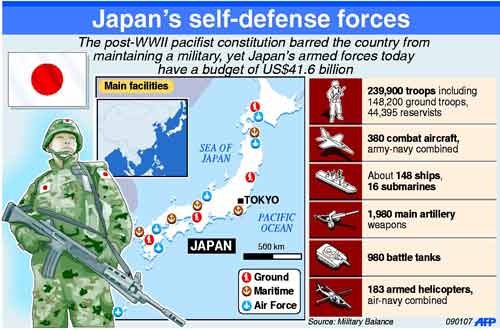 Graphic on Japan's armed forces as the country launched Tuesday its first defense ministry since WWII (AFP Photo)
Japan launched its first full-fledged defense ministry since World War II on Tuesday as part of Prime Minister Shinzo Abe's efforts to build a more assertive nation.
Abe, Japan's first premier to be born after the war, made the creation of a defense ministry one of his top priorities. He aims eventually to rewrite the US-imposed 1947 constitution that declared Japan a pacifist country.
"Since the Cold War ended, the national security situation facing Japan has changed dramatically," Abe said at a ceremony to mark the creation of a cabinet-level defense ministry to replace the previous defense agency.
"This is a significant step for us to get out of the post-war regime and lay the foundations for our efforts to build the nation," said Abe, adding that the ministry would now be able to shape defense and security policy.
Abe, a passionate advocate of a more assertive Japan, has faced slipping poll ratings since taking office in September with a vow to build "a beautiful nation" and calls for a hard line against North Korea's nuclear program.
In an interview with the BBC, Abe said other nations had nothing to fear from a more assertive Japan.
"I believe we will be able to gain the understanding as well as the confidence of the world regarding Japan's assertiveness," he said.
Japan's parliament enacted laws in December to create the full-fledged defense ministry and to instill patriotism at schools, breaking two taboos lingering since defeat in World War II.
The bill enjoyed wide support, with the largest opposition party joining the ruling coalition.
But the leader of the smaller Social Democratic Party, Mizuho Fukushima, criticized the move, saying it would enable Japan to send troops abroad to support the US military as soon as the post-war constitution is revised, the Jiji Press news agency reported.
Abe, however, told reporters after the ceremony that the upgrading of the defense agency "shows the maturity of Japan's democracy" and confidence in civilian control of the military.
The change is partly symbolic but the ministry will also have more power than the previous defense agency because it can submit its own budget requests.
Fumio Kyuma, until now the director-general of the defense agency, takes the title of defense minister. Japanese troops are still to be called the "Self-Defense Forces".
"The security situation surrounding Japan remains severe," said Kyuma, referring to North Korea's test missile launches in July and its first nuclear test in October.
Previous attempts to create a defense ministry stalled over political sensitivities in light of Japan's past aggression and fears of upsetting neighboring countries.
Despite its official pacifism, Japan has one of the world's biggest military budgets at 4.81 trillion yen (41.6 billion dollars) a year.
Japan has steadily been assuming a more visible military presence to counter its post-war image as solely an economic power.
In a groundbreaking move, Japan sent troops on a reconstruction mission to Iraq, the first time since 1945 that it had deployed to a country where fighting was underway.
Abe left Tuesday for Europe on his first trip to the region as premier, seeking to rally a united front against North Korea and strengthen ties with NATO.
Japan provides offshore refuelling services for NATO in its mission in Afghanistan, where 37 nations are under the alliance's command.