Japan on Monday released the 14 crew of a Chinese fishing trawler that collided with two Japanese coastguard vessels in disputed waters last week, but kept its captain in detention.
The incident has sparked a diplomatic row between the Asian powers, with China calling off planned talks over contested oil and gas fields in the East China Sea and summoning Tokyo's ambassador four times to protest.
Japan's top government spokesman Yoshito Sengoku said questioning of the crew had been completed, meaning there was no reason to keep them in Japan, and that prosecutors had also finished collecting evidence from the ship.
Just before noon (0300 GMT) the Chinese fishermen left the airport on Japan's far-southern Ishigaki island on a chartered flight, Kyodo News agency reported.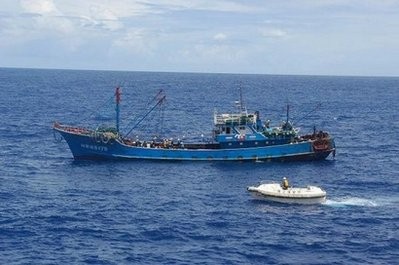 A Japan Coast Guard issued photo shows a Chinese fishing boat which was seized by a Japanese Coast Guard patrol near a disputed island
Another skipper was flying over from China to return the fishing boat to its home port, added Sengoku, Japan's chief cabinet secretary.
The fishing boat's captain, 41-year-old Zhan Qixiong, was arrested Wednesday on suspicion of obstructing officers on duty, a charge that carries up to three years' prison, and a court has since approved his continued detention.
"We will handle this as a criminal case based on Japanese domestic law," Sengoku told a regular press briefing.
Tokyo suspects the trawler captain deliberately rammed two Japanese patrol vessels last Tuesday near a disputed island chain between Japan's Okinawa island and Taiwan, an archipelago called Senkaku in Japan and Diaoyu in China.
Four Japanese patrol boats later pursued and seized the Chinese trawler.
The uninhabited islands are claimed by Tokyo, Beijing and Taipei and are a frequent focus of regional tensions.
The row has cast a cloud over what had been a steady improvement in relations between the traditional East Asian rivals in recent years, as their economic relationship has deepened.
The dispute escalated Saturday when a Chinese vessel confronted two Japanese survey ships at sea, and Beijing called off talks with Tokyo set for later this month over their competing maritime claims in the area.
The Chinese foreign ministry has said any evidence collected by Japan on the collision would be "illegal, invalid and in vain", and in the early hours of Sunday summoned Japan's ambassador Uichiro Niwa for a fourth time.
Sengoku reiterated Japan's position that there is no territorial dispute over the islands and added that "it was regrettable that China summoned the ambassador at such hours. But we are handling this issue calmly."
"We believe the way the coastguard and investigative authorities handled the illegal operation of the fishing boat was nothing but appropriate."
He added that "we are puzzled by China's announcement to call off the talks on joint development of gas fields due to this issue."
The government spokesman also voiced hope that tensions would calm, telling reporters: "I expect that, once the boat and the 14 crew return, we'll see more development."