TOKYO (AFP) – Capital spending by big Japanese companies is set to rise for the first time in three years as auto and electronics makers invest more abroad, a survey said Sunday.
According to the poll of 1,472 leading firms by business daily Nikkei, the companies plan to invest a total of 23.35 trillion yen (257 billion dollars) in plant and equipment in the business year to March 2011.
The annual total would be up 11 percent from the year to March 2010 when their combined capital spending plunged 23.7 percent, the steepest fall since the survey began in 1973, Nikkei said.
But the 2010-2011 estimate is still the second lowest in the past five years, at around 80 percent of the level seen in the year to March 2008, before the global financial crisis struck.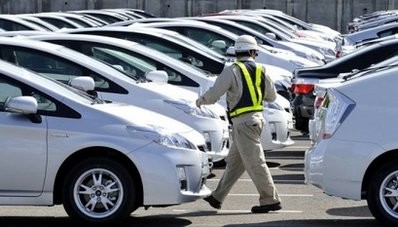 A worker walks between newly assembled Toyota vehicles at its plant in Aichi Prefecture. AFP file
And corporate Japan may once again pare back investment in 2011-2012, because the yen's appreciation against the euro as a result of Europe's sovereign debt crisis is making many firms cautious, the report said.
In the current year, export-led auto and electronics firms intend to boost their capital spending, mostly overseas, expecting steady growth in emerging markets including China, it said.
But retailers and other sectors more reliant on domestic demand in deflation-hobbled Japan plan to spend significantly less than the last business year.
Spending by manufacturers is projected to rise 17.3 percent to 12.79 trillion yen, with 14 of the 17 sectors posting year-on-year growth.
Car giant Toyota plans to boost its capital spending by 27.8 percent from the previous year when the amount dipped 55.5 percent, Nikkei said.
It is likely to spend 41 percent of its total outlays overseas, up from 32 percent in the year to March 2010, indicating Japanese carmakers' accelerating moves to relocate their production overseas.
The ratio of Honda's overseas investment to its total capital spending is expected to jump from 50 percent to 67 percent as it plans to expand its production in China, Nikkei said.