Japan's banking supervisory agency said Monday major banks of the Asian economic power would be able to meet new global rules drawn up by central bankers and regulators.
The group of regulators, the Bank for International Settlements, agreed Sunday at a meeting in Basel, Switzerland that banks would be required to lift their reserves substantially under the new rules.
To prevent a repeat of the global financial crisis, the new regulations -- called Basel III -- would force banks to more than triple their current reserves and would be phased in from 2013, according to a statement.
"We consider that the capital reforms are well balanced," said an official of Japan's Financial Services Agency. "In that sense, banks in Japan will be able to achieve the standards through their management efforts."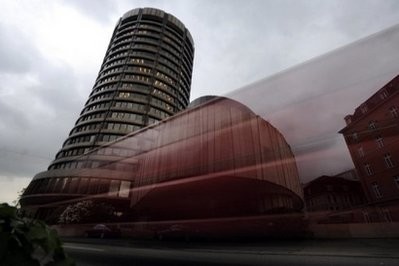 A car passes by the Bank for International Settlements (BRI) in Basel.
Under the new rules to be phased in from 2013, banks would be required to hold more reserves by January 1, 2015, with the so-called core Tier 1 capital raised to 4.5 percent from 2.0 percent at the moment.
In addition, banks would be required by January 1, 2019 to set aside an additional buffer of 2.5 percent to "withstand future periods of stress", bringing the total core reserves required to 7.0 percent.
Among major Japanese banks, the core Tier 1 capital is expected to stand at 7.41 percent at Mitsubishi UFJ Financial Group at the end of this fiscal year to March, according to an estimate by Citigroup Global Markets Japan.
Comparable figures are estimated to come to 6.35 percent at Sumitomo Mitsui Financial Group and 4.78 percent at Mizuho Financial Group, said the Citigroup report released Monday.
By March 2014, Sumitomo is expected to have 8.48 percent as core Tier 1 capital and Mizuho 6.57 percent while Mitsubishi will likely have 9.19 percent, Citigroup's estimate said.
The new regulations are to be submitted for ratification at a summit meeting of the Group of 20 nations in South Korea in November.
Regional banks rose as they will be given plenty of time to adapt to the rules.
"This is something investors won't have to worry about for several years," Masumi Yamamoto, market analyst at Daiwa Securities Capital Markets, told Dow Jones Newswires.
The new Basel rules are "not as strict as we had expected" in terms of the schedule, said a senior dealer at a major European bank in Tokyo.