LONDON, July 22, 2011 (AFP) - Pressure intensified on Rupert Murdoch's media empire Friday after his son James was accused of misleading British MPs, as rival newspapers became embroiled in the phone-hacking scandal.
After hacking allegations forced Murdoch to close his News of the World tabloid, it emerged that police had asked a regulator for files which exposed the use of private investigators by other papers.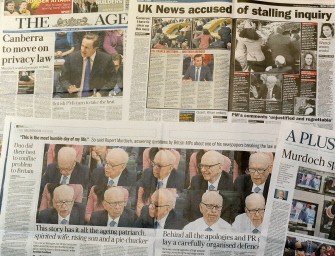 AFP - The generval view shows newspapers in Melbourne, Australia, on July 21, 2011 with coverage dominated by Rupert Murdoch's appearance
Prime Minister David Cameron is also facing the worst crisis since he took office last year, amid questions over talks he had on Murdoch's failed bid for pay-TV giant BSkyB and his hiring of an ex-Murdoch editor as his media chief.
James Murdoch was accused of lying to British MPs this week when he said he he had not seen an internal email which suggested hacking at the tabloid was widespread before authorising a settlement.
Colin Myler, the newspaper's former editor and Tom Crone, who resigned last week as legal manager for the Murdoch media empire's British publishing arm News International, issued a statement saying they had shown him the message before he authorised a key payout to a victim.
Myler and Crone said: "We would like to point out that James Murdoch's recollection of what he was told when agreeing to settle the ...litigation was mistaken."
Wary of accusations that he was paying victims to keep quiet, James Murdoch said in a statement: "I stand by my testimony to the Select Committee."
BBC's Newsnight programme on Thursday reported that the phones of the lawyers of three victims, including murdered schoolgirl Milly Dowler, had been hacked as recently as December last year.
Deputy premier Nick Clegg said a forthcoming judge-led public inquiry into the scandal was a "once in a generation opportunity to really clean up the murky practices and dodgy relationships" at the heart of the British establishment.
But the Liberal Democrat leader said Cameron, a Conservative, had been "very categorical that no inappropriate discussions took place" with Murdoch's aides over the bid for full control of BSkyB, which collapsed earlier this month.
Opponents have seized on Cameron's comments in parliament on Wednesday as an admission that he did have conversations of some kind with Murdoch's lieutenants over the deal.
Other media groups are now in the spotlight after Britain's Information Commissioner's Office said police had requested files from a 2006 inquiry into the use of private investigators by newspapers.
That inquiry found that the Daily Mail made 952 requests to private detectives for confidential details; The People made 802 requests, the Daily Mirror 681 and The Mail on Sunday 266. The News of the World was in fifth place with 228.
"The information was handed over to the police three months ago. It was at their request," a spokesman for the Information Commissioner's Office told AFP.
Scotland Yard said it would not discuss specific lines of inquiry.
A spokesman for the Daily Mail told AFP that Associated Newspapers, the paper's publisher, "banned the use of such agents" after the 2006 report.
The News of the World's former royal editor Clive Goodman and a private investigator, Glenn Mulcaire, were jailed in 2007 for phone hacking but despite mounting evidence the practice was widespread, London police did not reopen their investigation until January.
News International tabloid The Sun on Thursday fired features editor Matt Nixson due to allegations related to phone hacking during his time as a reporter at the News of the World, the company said in a statement.
Police have arrested, questioned and then released 10 people over the affair.
They include Andy Coulson, a former News of the World editor who quit in 2007 and months later become Cameron's communications chief. Coulson resigned from Cameron's Downing Street office in January.
Cameron told an emergency parliamentary session on Wednesday that "with 20-20 hindsight" he would not have hired Coulson.
But there was more trouble Thursday amid reports that Coulson did not have the highest level of security vetting before taking up his Downing Street job, raising questions about whether there were doubts over his appointment.
Coulson's former deputy at the News of the World, Neil Wallis, was previously the editor of The People, one of the papers named in the report on the use of investigators.
Wallis was arrested earlier this month but in another twist it emerged that he had been employed by the police in 2009-10 -- a revelation which forced Scotland Yard chief Paul Stephenson and top police officer John Yates to resign.