Jamaica's leader faced growing criticism over a nearly week-long assault on a slum to capture a powerful drug don as decomposing bodies of civilians lay unclaimed for days.
The operation has left 73 civilians dead by official count and has divided the island, with many Jamaicans hailing what they see as a chance to fight rampant crime but some alarmed at the heavy humanitarian price.
An overpowering stench of death hung over a cemetery in the capital Kingston, where more than a dozen bodies were left in simple wooden coffins. Flies hovered over one, from which an exposed leg stuck out.
Faced with rising allegations of abuse, the military and police went on the offensive, portraying residents of the destitute Tivoli Gardens area almost as an insurgent force that had hidden explosives and girded for heavy combat.
Forces descended Sunday into the district seeking gang leader Christopher "Dudus" Coke, who is wanted in the United States on drug trafficking charges but is hailed by many residents as a Robin Hood figure who offers security and small-time jobs on some of the world's toughest streets.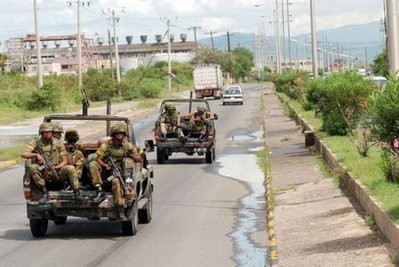 Jamaican soldiers travel a road in Kingston's Tivoli Gardens neighborhood on May 27, 2010
Jamaica's police chief, Owen Ellington, pledged a thorough investigation of all allegations but vowed to find Coke.
"Five days ago, there were concerns in this country as to whether the security forces have the capacity or the will to go inside Tivoli Gardens and disrupt Christopher Coke," Ellington said.
"Today, he is on the run. And we will catch him."
But with no sign of Coke, rumors have floated around Jamaica on his whereabouts with some convinced he fled and others suspecting he was negotiating a surrender.
Ellington said he believed Coke was in Jamaica. In Washington, State Department spokesman Philip Crowley said the United States had no "knowledge about what Mr. Coke is thinking or even where he is."
Ellington said bodies had been left outside for post-mortems, following accusations the police were trying to secretly dispose of corpses to hide the death toll, but that they could be a public health hazard if left inside.
But many of Coke's sympathizers inside the barricaded area accused troops of firing indiscriminately.
Sonia, 42, who fled from Tivoli Gardens, said she did not know if Coke was even still in Jamaica.
"Who said he here? Is that a reason to destroy our place?" she said angrily. "Nobody knows where he is. We all just here, mourning our dead."
The slum dwellers received support from former prime minister Edward Seaga, who used to represent Tivoli Gardens in parliament and is considered by some to be the architect of Jamaican politicians' close ties with the underworld.
Seaga estimated that the real death toll was up to 150. He called for the resignation of incumbent Prime Minister Bruce Golding, who succeeded Seaga as the ruling Jamaica Labour Party's parliamentarian representing Tivoli Gardens.
"I cannot think of any reason to cause the government to continue with this very, very wicked act," Seaga, a close ally of former US president Ronald Reagan, said in a televised interview.
"What kind of country have we become? This is what happened with Pinochet in Chile, it happens in Africa. It does not happen here."
Amnesty International also called for a thorough investigation of the unrest, saying that Jamaican police had a "dire" track record on human rights.
It pointed to the small number of weapons seized compared with the death toll. As of Friday, the police said they had captured a few dozen firearms or explosives.
However, many Jamaicans have hailed the crackdown as a way to battle endemic crime.
Joseph Matalon, president of the Private Sector Organisation of Jamaica, an umbrella group of businesses, welcomed efforts to fight violence and "the incestuous links that exist between our political actors and the criminal underworld."