Italy on Friday urged NATO to help rescue refugees fleeing

Libya

by sea and demanded an inquiry into the alliance's reported failure to assist a stricken boat on which dozens may have died of dehydration.
NATO's mandate in Libya should be adapted "to take into consideration the care and rescue of those who are forced to flee by boat, putting their lives at risk because of combat operations," the foreign ministry said in a statement.
Italy asked for assistance from a NATO vessel taking part in the naval embargo on Libya to rescue a boat with hundreds of refugees drifting off Libya and was refused, according to a foreign ministry source cited by the ANSA news agency.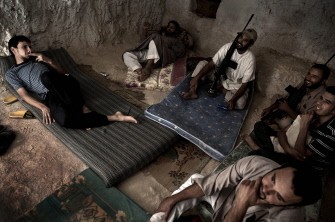 Berber fighters use caves in the western Libyan town of Nalut, near the border with Tunisia, to shelter from grad rocket attacks by Colonel Moamer Kadhafi's forces on August 4, 2011
The refugees were eventually rescued by the Italian coastguard and taken on Thursday to the island of Lampedusa, where tens of thousands of African migrants fleeing Libya have arrived on rickety fishing boats in recent weeks.
Survivors said around 100 people had died on the journey that began last Friday.
The foreign ministry said it wanted an inquiry into "the controversy over the presumed failure to assist a boatload of migrants fleeing Libya."
ANSA reported that the NATO vessel asked to help was 28 nautical miles (50 kilometres, 31 miles) from the 20-metre (65-foot) boat with more than 300 refugees.
They were rescued some 90 nautical miles south of Lampedusa -- closer to Libyan shores than to the island -- Italy's southernmost point.
Italy's chief of defence staff Biagio Abrate said he had contacted the commander of NATO-led operations in Libya, Charles Bouchard, over the incident.
There should be "greater awareness on the humanitarian aspect of the operations under way," Abrate told reporters.
"If there is a request for assistance, our navy and the navies of all other nations have to act in a speedy manner," he said.
A NATO spokesman for naval operations, David Taylor, denied that NATO had failed to assist, saying: "NATO always responds and intervenes in emergency situations in accordance with the requirements of international law."
But charities called for better coordination of rescue efforts in the Mediterranean to avoid similar tragedies which Laura Boldrini, a spokeswoman for the UN refugee agency UNHCR, said have killed 1,500 people so far this year.
"Humanitarian corridors should be opened as a matter of urgency," Save the Children, which has representatives on Lampedusa, said in a statement, adding: "It is not possible to continue seeing tragedies at sea without doing anything."
Medecins Sans Frontieres (Doctors without Borders), which has a doctor on the island, said that different sides in the Libyan conflict and neighbouring countries should "keep open their borders and offer assistance and protection to people fleeing Libya."
The MSF doctor, Mario Testa, was quoted as saying that the refugees who arrived on Thursday "were left for six days and six nights in high seas without food or water, forced to look on" as "dozens" of people died around them.
Five survivors -- four women and a man -- who were in a particularly grave condition have been taken to hospital in Sicily. Three in a particularly perilous state were taken off the boat by an Italian coastguard helicopter.
UNHCR's Boldrini called for "an improvement in coordination between ships in the Mediterranean" and Flavio Di Giacomo from the International Organisation for Migration (IOM) in Rome urged "an efficient response to avoid these incidents."
"All the boats of refugees leaving Libyan shores must automatically be considered in difficulty and therefore assisted," he said.
Last month over 100 African refugees on a boat from Libya were rescued by a Spanish NATO ship but were then stuck on the vessel for days as different European countries refused to take them in. They were eventually taken to Tunisia.
UNHCR said around 24,000 refugees from Libya have landed on Italian shores.
Twenty-five young men were found dead in the engine room of a refugee boat that arrived on Lampedusa on Monday. They were believed to have choked to death.
In April, 250 refugees drowned when their boat sank off Lampedusa.