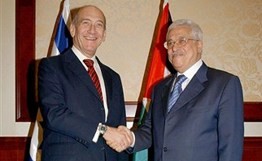 Abbas shakes hands with Olmet at the last meeting in Jericho
Israeli Prime Minister Ehud Olmert and Palestinian President Mahmoud Abbas will meet Tuesday in Jerusalem to discuss a peace settlement for the Israeli-Palestinian conflict, local radio said.
The talks are an attempt to reach a tentative agreement on the fundamental and most controversial issues of the conflict settlement, including territorial borders, the future status of Jerusalem, Palestinian refugees, and Jewish settlements located in disputed Palestinian territory, ahead of a U.S.-sponsored regional forum to be held in November 2007.
Olmert and Abbas's last meeting was held earlier this month in the city of Jericho on the West Bank.