A Jewish-American millionaire at the heart of a widening corruption probe that could unseat Israeli Prime Minister Ehud Olmert returned to court on Thursday to be cross-examined by Olmert's lawyers.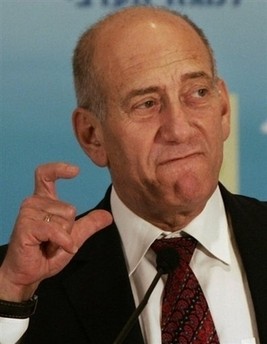 Israeli Prime Minister Ehud Olmert speaks during a press conference, July 10. The US millionaire at the heart of a widening corruption probe that could unseat Olmert returns to court on Thursday to be questioned by Olmert's lawyers.(AFP/Pool/File/Sebastian Scheiner)
In May, financier Morris Talansky testified to having given Olmert some 150,000 dollars in campaign contributions before he became premier in 2006, much of it stuffed into envelopes.
Talansky said some of the money went to funding Olmert's lavish lifestyle, such as foreign travel, luxury hotels and fine cigars.
The businessman has downplayed the significance of the cross-examination, telling reporters on Tuesday: "It will allow me to tell everything I know, but in my case I want to tell you, don't expect any big drama.
"I'll tell the story; it won't be dramatic and everyone will pick up the papers and say 'Oy ve, why did we waste our time with this guy Talansky'?"
Earlier Thursday, Olmert media adviser Amir Dan issued a statement in which he accused the police and prosecutors of seeking to drive the prime minister from office.
"Today we will begin to uncover the cracks in the police and prosecution's version, and the public in Israel will understand that someone is trying to depose a sitting prime minister based on unverified partial facts and conflicting testimony," he said.
"As for Talansky, we have only one goal -- for him to tell the truth."
Talansky's testimony comes amid reports that one of Olmert's lawyers, Ron Shapira, had resigned in a dispute with other defence team members over his proposal that the premier seek a plea bargain rather than risk being tried.
Daily newspaper Haaretz said Shapira was worried that if Olmert is charged, tried and convicted, he would go to jail.
In Thursday's session, the first over five days, Haaretz said defence lawyers would attempt to show that Talansky repeatedly changed his version of the same events when interviewed by police.
Olmert, who was elected prime minister in 2006, has denied any wrongdoing but has admitted to receiving campaign funds from Talansky.
The Talansky affair, one of six pending corruption investigations into the embattled leader, sparked calls for his resignation from across the political spectrum, including from his own coalition allies.
And a new probe has begun into whether Olmert illegally billed multiple private organisations and the state for the same airline tickets when he was Jerusalem mayor and trade minister.
On a third front, former Olmert secretary Shula Zaken was questioned this week over allegations Olmert received a hefty discount on the price of a Jerusalem apartment in exchange for using his influence to get a developer permission to build on a historic site.
Olmert has denied all the allegations against him.
But Talansky's last court appearance brought threats from Labour party leader and defence minister Ehud Barak -- a crucial coalition ally -- to leave Olmert's government if he did not step down.
Without Labour's support, the premier's fragile coalition would not have the required 61 seats for a majority in the 120-member parliament.
But neither Kadima nor Labour want early elections because both are outweighed by the right-wing opposition Likud party in opinion polls.
Olmert was able to save the coalition last month by cutting a last-minute deal to hold a party leadership poll in mid-September. So far, he has not ruled out competing in it despite his plummeting popularity.
Foreign Minister Tzipi Livni is considered a front-runner in the party election, but Transport Minister Shaul Mofaz and Public Security Minister Avi Dichter are also jockeying for the position.
Outside Israel, many fear Olmert's deepening political troubles could scupper slow-moving Middle East peace talks relaunched in November and aimed at resolving the decades-old conflict by the end of the year.
And earlier this week Mofaz warned that Israel's foes in the region, including Iran, the Lebanese militant group Hezbollah and the Palestinian Hamas movement, view the corruption investigations as a "sign of weakness."