US Secretary of State Hillary Clinton is expected to announce Friday that Israel and the Palestinians will resume direct peace talks for the first time in 20 months, the New York Times reported.
The Times, citing two unnamed officials briefed on the situation, said Israeli Prime Minister Benjamin Netanyahu and Palestinian leader Mahmud Abbas, have agreed to place a one-year time limit on the talks.
US President Barack Obama is expected to invite Netanyahu and Abbas to Washington in early September to start the negotiations, which will address "final status" issues, including the status of Jerusalem and the right of return for Palestinian refugees, the Times said late Thursday.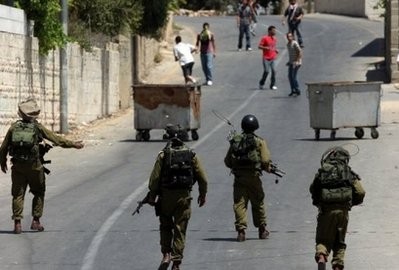 Israeli soldiers and Palestinian demonstrators clash in the occupied West Bank.
A return to direct negotiations would be the first significant achievement for the Obama administration's effort to facilitate Middle East peace talks.
Face-to-face negotiations between Israel and the Palestinians have been on hold for nearly two years, despite US pressure on both sides.
The last round of direct talks collapsed when Israel launched a devastating three-week offensive in Gaza in December 2008 in a bid to halt rocket fire from the enclave ruled by the militant Hamas movement.
The US State Department sounded an optimistic note on direct talks early Thursday.
"We think we are very, very close to a decision by the parties to enter into direct negotiations. There are details that are still being worked out," State Department spokesman Philip Crowley told reporters earlier Thursday.
Crowley said Clinton had consulted with Jordanian Foreign Minister Nasser Judah and Tony Blair, the former British prime minister who represents the diplomatic Quartet.
The Quartet -- composed of the United States, Russia, the United Nations and the European Union -- could issue a statement in support of direct peace talks that have been suspended since December 2008.
"We believe that, if we reach the point we hope to arrive at, that... members of the Quartet will demonstrate their support for the process; we will demonstrate our support for the process." Crowley said.
"And we will outline... specifics of where we go from here," the spokesman said.
Palestinian officials have said that any new statement would be modeled on one issued in Moscow in March that called on Israel to halt settlement construction and for the talks to lead to a final peace deal in two years.
Any statement could call on Israel to extend for another 10 months its limited freeze on West Bank settlement construction, which is to expire in September.
But Israeli media reported this week that a forum of seven top Israeli cabinet members decided to reject any Quartet statement.
"The Quartet declaration should allow the Palestinians to descend the tree they have climbed by refusing negotiations, but it is not binding on Israel," several Israeli media outlets quoted an unnamed minister as saying.
Israel says it is prepared to enter direct negotiations, but without preconditions, but the Palestinians have demanded a halt to all Israeli settlement activity and guidelines on the negotiation of final borders.
They reluctantly agreed to indirect negotiations in May following months of pressure from the Quartet, but they say they have achieved little.