DUBLIN (AFP) – Irish authorities counted the ballots Saturday after reports of a big turnout as voters vented their anger over the eurozone nation's widely-loathed international financial bailout.
According to an exit poll Saturday the opposition Fine Gael party is set to lead the next government as the ruling Fianna Fail party slumped to its lowest result ever.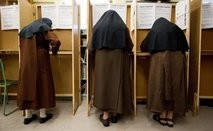 AFP - Nuns vote at the Drumcondra National School, near Dublin.
Fine Gael, led by former teacher Enda Kenny, won 36.1 percent of the vote, its best since November 1982 but not enough for a parliamentary majority in the 166-seat Dail, or lower house of parliament, according to the Millward Brown Lansdowne poll for the RTE state broadcaster.
By contrast the Fianna Fail party of Prime Minister Brian Cowen, blamed for the country's economic crash and a deeply unpopular international bailout, is on course for its worst ever general election result with 15.1 percent.
The Labour party was on 20.5 percent, which would be its best ever share of the vote in a general election if confirmed by the results expected later Saturday.
State media reported predictions of a turnout of around 70 percent of the 3.1 million people eligible to vote as people flocked to the ballot box to show their fury over the collapse of the "Celtic Tiger" economy.
Full results are not expected until late Saturday or Sunday. Polling stations closed at 10 pm on Friday.
In November, Ireland was forced to go cap in hand to the European Union and International Monetary Fund for an 85-billion-euro ($115-billion) bailout after a debt crisis centred on the banks threatened to spiral out of control.
At the centre of problem was a housing bubble.
It was the second eurozone nation after Greece to seek help and the deal was widely viewed as a humiliation, just three years after Ireland was the envy of the world for the strength of its economy.
Kenny, who voted in Mayo in western Ireland with his daughter Aoibhinn, a first-time voter, has promised to "hit the ground running" if he takes office.
He has already visited Brussels and Berlin to discuss amending the bailout terms, notably the "punitive" 5.8 percent interest rate and the cost of restructuring Ireland's banks.
The EU has indicated it might review the deal, but Dublin is under pressure to cut its ultra-low 12.5 percent corporate tax rate in return -- a rate Kenny says is vital for Ireland's economy.
Polls show 82 percent of voters want the bailout renegotiated but more than half of these accept that it will not be although many cannot see a way out.
Meanwhile, Fianna Fail struggled to avoid an electoral wipeout after 14 years in power, as newspapers demanded punishment for the country's woes.
"Your Day of Revenge -- Kick Them in the Ballots", headlined the Irish Daily Star, while the Irish Sun said: "Downfail. It's time to dump this rotten lot."
Fianna Fail is led by ex-foreign minister Micheal Martin, who took over in January after Cowen quit over his handling of the economic crisis. Cowen is not standing for re-election.