BAGHDAD, Mar. 27 (AFP) – Ex-premier Iyad Allawi, whose bloc emerged strongest from Iraq's polls, launched talks Saturday with political foes in a bid to form a coalition, offering to work with any group "without exception."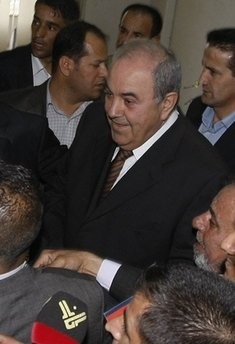 Premier-elect Iyad Allawi is surrounded by security and cameras in Baghdad. Allawi, whose bloc emerged strongest from Iraq's polls, launched talks Saturday with political foes in a bid to form a coalition (AFP photo)
Complete results released on Friday showed Allawi's Iraqiya bloc won 91 seats in the 325-member Council of Representatives, two more than Prime Minister Nuri al-Maliki's State of Law Alliance.
"There must be a strong government, capable of taking decisions which serve the Iraqi people, and bring peace and stability to Iraq," Allawi told a news conference on Saturday.
Of coalition building, he said: "There have been some talks, but they were only talks. Now, the negotiations begin. These discussions will be conducted with the different political forces, without exception."
Allawi promised Iraq would open a "new page" and establish "better relations" with its neighbours -- Iran, Syria, Saudi Arabia and Kuwait. Profile: Iyad Allawi
Neither Iraqiya nor State of Law clinched an overall parliamentary majority and a protracted period of coalition building, which could take months, is now expected. Facts: Iraq election results
Allawi has appointed Rafa al-Essawi, current deputy prime minister and a member of his alliance, to lead negotiations over coalition formation.
He had said before the full results were released that he would not join forces with Maliki unless the incumbent changed his policies.
Allawi has confirmed previous talks with the Iraqi National Alliance, a coalition led by Shiite religious groups, and Kurdistania, comprised of the autonomous Kurdish region's two long-dominant blocs, which came third and fourth in the election respectively.
Maliki has refused to accept the results from the March 7 poll, insisting figures released Friday night by the election commission remained "preliminary." Profile: Nuri al-Maliki
Security officials have warned that lengthy period of coalition building could give insurgent groups a chance to further destabilise Iraq, with deadly bomb attacks northeast of Baghdad which killed 52 people on Friday illustrating their concerns.
Allawi said on television later that officials from his bloc had conducted a "dialogue" with the Dawa party of Maliki, although he added "there is no real reconciliation."
He said a decision to ban candidates allegedly linked to Saddam's Baath party, including several from his Iraqiya list, had harmed relations with Maliki.
"So far there has been no important dialogue (with the Dawa party) as with the Supreme Iraqi Islamic Council and the Sadrists, or the Kurds, but we hope it takes place," he said.
Maliki said late Friday the election results were "not final", and refused to accept them, after previously calling for a nationwide manual recount of votes, alleging irregularities.
"It's a very close race, they want to win," Gary Grappo, the head of the US embassy's political section, told reporters on Saturday.
Maliki "will pursue all means at his disposal through the established judicial process."
Grappo described Maliki as "someone who is in an extremely tight race, who still believes that his party has a chance and therefore is not ready to accept these as the final results."
"I expect him to wage a pretty aggressive campaign to present his challenges, argue his case in the hopes of changing the ultimate seat allocation that goes to court for certification."
The United Nations and the United States have given their blessing to the election and the results.
US Ambassador Christopher Hill and General Ray Odierno, the top US commander in Iraq, said in a statement there was "no evidence of widespread or serious fraud" and UN envoy Ad Melkert added that the polls were "credible."
Iraqi President Jalal Talabani, meanwhile, said on a visit to Tehran that the election was a defeat for "terrorism" and marked further progress in forging a democratic nation.
The results come around five months before the United States is due to withdraw all of its combat troops from Iraq, and Washington will be keen to see a smooth outcome from the election. Chronology: Key dates since Iraq invasion
All parties have three days to submit complaints, which will then be investigated by the election commission. It will likely be two weeks before Iraq's supreme court certifies the results.