Violence in Iraq and instability in Lebanon are driving hundreds of thousands of people abroad in an upheaval not matched in the Middle East since the exodus of Palestinian refugees when Israel was created in 1948.
While Lebanese usually migrate legally to countries of their choice, Iraqis are fleeing across borders in distress to escape the bombings, death squads and sectarian cleansing that have savaged their country since the U.S.-led invasion in 2003.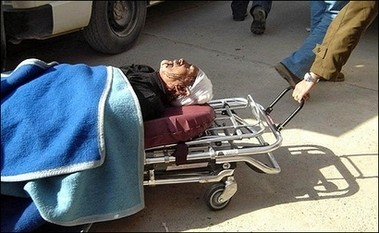 An Iraqi wheels a wounded man into a hospital in the northern Iraqi city of Sulaymaniyah
Most of the Iraqis are ending up in countries that already host large Palestinian communities drawn from the 4.3 million Palestinian refugees registered with the United Nations.
The carnage in Iraq has also uprooted about half the 30,000 Palestinian refugees who lived there in Saddam Hussein's time, forcing them into a second exile or stranding them in limbo.
About 700 Palestinians have been stuck for months in wretched camps on the Iraqi-Syrian border after fleeing violence in Baghdad, despite U.N. appeals for Arab states to let them in.
The U.N. High Commissioner for Refugees says up to 50,000 Iraqis abandon their homes every month. "Iraq is the big one," UNHCR's regional representative Stephane Jaquemet told Reuters.
The agency estimates that up to 2 million Iraqis have moved to neighbouring countries, mainly Syria and Jordan, before and since the war, while 1.7 million are internally displaced.
Jaquemet said he feared Syria and Jordan, which each host anywhere between half a million and a million Iraqis, might eventually close their borders to the refugees -- many of whom are fast exhausting whatever resources they brought with them.
TIGHTENING CONTROLS
Jordan already interrogates and turns away some Iraqi migrants at the frontier, especially young men who fail to convince the authorities they risk persecution at home.
Syria, already home to 432,000 Palestinian refugees, has been the most welcoming host for Iraqis, despite the extra burdens they create in a struggling economy where jobs are scarce and public services are creaky.
Yet Damascus, often accused by the United States of helping Iraqi insurgents, wins little international appreciation for its contribution in shouldering the Iraqi refugee burden.
Tens of thousands of Iraqis have also sought safety in Iran, Egypt, Lebanon, Turkey and Arab Gulf states. Only a tiny fraction of those who apply for formal refugee status with the UNHCR are accepted for resettlement in the West.
Even those who risk brutal punishment or death at home for working with the U.S. military as translators or in other supporting roles find it almost impossible to gain entry to the United States, which took in only 202 Iraqi refugees in 2006.
Inside Iraq, up to half a million people fled their homes to other parts of the country last year alone, the UNHCR says.
"The defining factor was the bombing of the Samarra sanctuary on February 22," said Jean-Philippe Chauzy, spokesman for the Geneva-based International Organisation for Migration, which monitors the displacement throughout Iraq.
The destruction of the Shi'ite mosque in Samarra set off a wave of Sunni-Shi'ite revenge killings that has yet to wane.
DISPLACEMENT ON RISE
"People have fled because of violence or direct threats against their families. The rate has been about 1,000 a week and it is on the increase," Chauzy said. "People are moving to areas according to ethnic and religious lines."
"In many areas people pay rent to live in insalubrious conditions where there is little clean water or electricity. Fuel is also a problem. Many are living with relatives. It's a humanitarian crisis and the needs are enormous," he added.
Rampant insecurity in Iraq has hamstrung foreign aid agencies since the 2003 bombings of the Baghdad offices of the United Nations and the International Committee of the Red Cross.
While Iraqis try to escape the maelstrom of bloodshed, a quieter exodus of Lebanese has gathered pace since last year's war between Israel and Shi'ite Hezbollah guerrillas led to a protracted political crisis that burst into violence in January.
Lebanese economists say tens of thousands have left to seek jobs and safe havens abroad in recent months, draining youthful talent and swelling a diaspora that may already account for a quarter of the Mediterranean country's four million people.
One recent survey showed 60 percent of young graduates and older people with families hoped to leave, either because they saw no future in Lebanon or wanted to keep their children safe.
Pamela Chrabieh, a researcher in contact with many would-be migrants, said she often advised them to think twice before grappling with the trauma of settling in countries where they might face official barriers, discrimination or unemployment.
"But those who have completely lost hope say: 'It's a permanent wait and we don't know what we are waiting for any more because the whole region is in flames'," she said.