Forty Iraqi interpreters who worked for British forces in Iraq lauched a group action against the government at the High Court in London Friday, arguing that it failed to protect them, their lawyers said.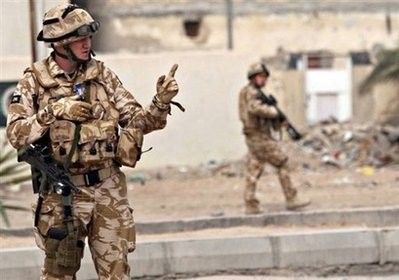 The file photo shows British soldiers patrolling Barsa City in Sounthern Iraq. (Photo: AFP)
The Leigh Day & Co legal firm said its clients were suing the British government for leaving them vulnerable to attack and persecution by militia hostile to foreign forces in Iraq, who saw them as collaborators.
In eight cases, the claims were brought by relatives of interpreters who died in suspected militia attacks, which were believed to have been a direct consequence of their work, the firm said in a statement.
"This is a tragic case of the British government doing too little too late to protect a vital part of its workforce," said Leigh Day lawyer Sapna Malik.
The Iraqis -- almost half of whom now live in Britain -- are each hoping to receive compensation ranging from £5,000 to £100,000 ($8,000-$160,000, 6,000-120,000 euros), according to The Times newspaper.
A spokeswoman for the Ministry of Defence -- which is the target of the legal action with the Foreign Office and the Department for International Development -- said the British government valued the work of local staff.
"We are aware of these claims and they are currently under investigation," she said.
"Where Her Majesty's government has a legal liability to pay compensation we do so. It would be inappropriate to comment further while investigations are ongoing."
A first set of claims were lodged in March 2009, and the group action was given approval to proceed in November last year, Leigh Day said.
Britain withdrew its troops from Iraq in July 2009, six years after joining the US-led invasion to depose dictator Saddam Hussein.