Iraqi Foreign Minister Hoshyar Zebari briefly walked out Thursday of an Arab League ministerial meeting held in Libya to protest against Moammar Gadhafi's declared support for Saddam Hussein loyalists, delegates said.
They said Zebari stormed out after he told his Arab peers that his government was angry over public comments by Gadhafi pledging support to a group of Saddam loyalists he met in Libya earlier this week.
The group included senior commanders of Iraq's Saddam-era army and officials from his outlawed Baath Party.
On Wednesday, Iraqi government spokesman Ali al-Dabbagh condemned Gadhafi's Sunday meeting with the 29 Saddam loyalists, describing the move as "undiplomatic" and an "insult" to the people of Iraq.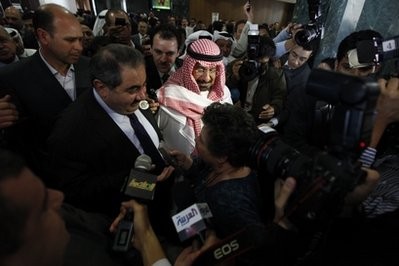 Iraqi foreign minister Hoshyar Zebari, center left and Kuwaiti foreign minister Mohammed al Sabah, center right
Iraq's post-Saddam governments are particularly sensitive to any contacts between foreign governments and Saddam loyalists. It views such meetings as an attempt to undermine their legitimacy and casting doubt on the right of the country's Shiite Muslim majority to be the country's most dominant political group.
The Saddam loyalists are almost exclusively from the rival Sunni branch of Islam.
Zebari later rejoined the meeting following a mediation by the foreign ministers of Bahrain and Kuwait, according to the delegates. They had no details on the mediation.
The annual Arab League summit and meetings held just before them are often plagued by no-shows — mostly because of personal disputes among leaders — and on-camera spats.
The meeting that Zebari walked out on was trying to hammer out an agenda for the Arab summit scheduled for Saturday and which is expected to be dominated by the stalled Middle East peace process.
In an opening statement, Libyan Foreign Minister Moussa Kosa blamed the deadlock on Israel's "obstinacy" and the "bias" by the West against Arabs.
The Palestinians are seeking a strong Arab stance in the face of Israel's plans to expand Jewish housing in east Jerusalem. They also want millions of dollars in funding for Palestinians living in that section of the city. Arabs view Israeli building in east Jerusalem as disruptive to Mideast peacemaking.
The ministers agreed to recommend to their leaders fulfilling a request by the Palestinian Authority to raise funding for Palestinians living in east Jerusalem from $150 million to $500 million annually, according to Secretary General Amr Moussa afterwards.
They will also recommend creating a new permanent Arab League commissioner position to follow the issue of Jerusalem.
Earlier this month, Arab nations opened the door for Palestinian President Mahmoud Abbas to enter four months of indirect, American-brokered peace talks with Israel. But they later threatened to withdraw support for the indirect talks because of recent Israeli announcements on plans for new settlement building.
Jordan's King Abdullah II warned Israel on Thursday that it is playing with fire over its settlement policy and that the Jewish state must decide whether it wants peace or war.
Abdullah said Israel must take "tangible actions" toward ending settlements and returning to negotiations with Palestinians if it wants peace.
Israel recently announced new housing plans for east Jerusalem, which it captured from Jordan in the 1967 Mideast war and annexed shortly after. The Palestinians want east Jerusalem as the capital of a future state.
The summit's agenda also deals with other Middle East issues such the West's standoff with Iran over its nuclear program, the situation in Iraq and Sudan.
The summit is likely to register a higher-than-usual no-shows by Arab leaders.
Egyptian President Hosni Mubarak, recuperating from a gall bladder operation in Germany, will not go and is sending his prime minister in his place. Lebanon's top leaders are staying away over a decades-old dispute with Tripoli over the 1978 disappearance of a top Lebanese Shiite cleric who was last seen in Libya.
Tripoli denies having any connection with the case.
Instead Lebanon is sending its Arab League's envoy to the March 27-28 summit.