BAGHDAD, Sept 2, 2010 (AFP) - With the US combat mission officially at an end Iraq is a step closer to independence, but contrary to what its leaders proclaim the country is still far from sovereign, analysts say.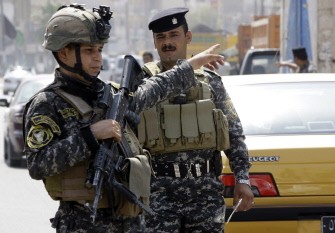 Iraqi policemen man a checkpoint in Baghdad on September 2, 2010 a day after the US military formally ended its combat operations in Iraq. AFP
Seven years of occupation and two decades of United Nations sanctions that followed Iraq's 1990 invasion of Kuwait have so disabled this once regional powerhouse that it is still in great need of the United States, they say.
"Iraq has for years been trying to recover its sovereignty," said Hamid Fadel, who teaches political science at Baghdad University.
"The gradual withdrawal of the US army can be a step in this direction, but many obstacles remain in between," he told AFP.
US forces ended their combat mission in Iraq on Tuesday, drawing down troop numbers that surged to almost 170,000 following the 2003 US-led invasion to less than 50,000 at present, prior to a complete withdrawal at the end of 2011.
"This is a day that will remain in the memory of all Iraqis. Today, Iraq has become a sovereign and independent country," Prime Minister Nuri al-Maliki said in a televised speech on Tuesday.
But for Fadel, the supposed sovereignty of Iraq is also contradicted by the "preponderant" US role in the country, particularly on security issues, and UN sanctions which give the New York-based institution considerable power here.
"Baghdad is still under Chapter 7 of the UN charter," he said, which means that 20 years after the invasion of Kuwait, Iraq is still the target of drastic sanctions of the Security Council.
Chief among them is the requirement to pay five percent of oil revenues into a UN special fund which handles war reparations, and to which Iraq has paid 30 billion dollars so far.
"Iraq still needs the American umbrella. It is unable to protect itself from external attacks," Fadel added.
For Ihsan al-Shammari, a political economist at Baghdad University, it is difficult to speak about Iraqi independence when 49,700 troops remain stationed in his country.
"The withdrawal was a commitment that (US President Barack) Obama intended to keep, and it was symbolic," he said.
"When he announced the end of combat missions on Tuesday evening at the White House it felt like the speech was intended for Americans, not Iraqis," al-Shammari added.
Aziz Jabr, a professor at Baghdad's Mustansiriya University was of the same opinion, reflecting on Iraq's weakness when compared against regional rivals.
"Iraq does not have a deterrent power vis-a-vis its neighbours -- Iran, Turkey, Syria and Saudi Arabia," he said, recalling comments by Iraq's top army officer, Lieutenant General Babaker Zebari, who last month urged US troops to stay until 2020.
For security inside Iraq, the end of US combat missions means that Iraqi forces alone are now responsible.
Despite a resurgence of attacks inside Iraq since July, Maliki stated Tuesday that Iraq's own army and police were up to the task of protecting the population. His remarks did not lessen the scepticism of many Iraqis.
For Jabr, the main weakness of the security forces in the fight against insurgents is in collating intelligence.
"They are able to collect information, but not to analyse it," he said, in an opinion shared by Shammari.
"The war against terrorism does not depend on military might, but on intelligence," Shammari said. "To arm and train the Iraqi forces was clearly not sufficient."
Although the military was largely destroyed and subsequently disbanded after the 2003 invasion a series of multi-million dollar deals in recent years have seen Baghdad buy tanks and airplanes from the United States.