Iraq war drama "The Hurt Locker" dominated the 82nd Academy Awards here Sunday, scooping six Oscars including best picture on a historic night in Hollywood.
The powerful movie about a US Army bomb disposal squad in Baghdad blew away the competition, with film-maker Kathryn Bigelow becoming the first woman ever to win the Oscar for best director.
"This really is, there's no other way to describe it, the moment of a lifetime," said Bigelow, only the fourth woman ever to be nominated for the best director award by Academy voters.
"I'd like to dedicate this to the women and men in the military who risk their lives in a daily basis in Iraq and Afghanistan and around the world," Bigelow added. "May they come home safe."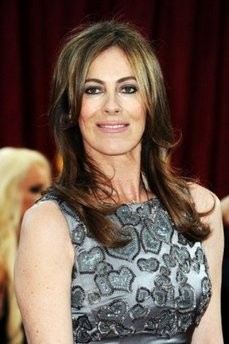 Film-maker Kathryn Bigelow became the first woman ever to win the Oscar for best director.
The top acting honors went to Hollywood veterans Jeff Bridges for his performance as an alcoholic country singer in "Crazy Heart" and Sandra Bullock, for her role as a feisty housewife in the sports drama "The Blind Side."
It was a perfectly scripted night at the Kodak Theater for Bigelow, whose low-budget film had been locked in a duel with "Avatar," the science-fiction epic directed by her ex-husband James Cameron.
Cameron's phenomenally successful blockbuster -- the highest-grossing film in history with more than 2.5 billion dollars in earnings -- finished the night with three Oscars in mostly technical categories.
The face-off between Bigelow and Cameron's films had been billed as the "Battle of the Exes" but the two film-makers smiled and joked throughout the evening as they sat just a few feet apart throughout the show.
The acting awards largely followed the form-book, with Bridges finally landing an Oscar after four previous unsuccessful nominations.
Bridges thanked his late parents in an acceptance speech which came 39 years after his first Oscar nomination.
"Thank you mum and dad for turning me on to such a groovy profession," said a delighted Bridges, who had earlier welled up with tears after a moving tribute from Michelle Pfeiffer.
Bullock meanwhile completed a uniquely dubious double with her best actress award, which came just 24 hours after she was crowned worst actress at the Razzies, the annual eve-of-Oscars parody.
"Did I really earn this or did I just wear you all down?" said Bullock, whose Oscar-winning role was based on the true story of Leigh Anne Tuohy, who took in a homeless black teenager Michael Oher and helped set him on the road to an American football career.
Bullock dedicated her win to "the moms that take care of babies and children no matter where they come from."
The supporting actor awards went to Austria's Christoph Waltz for his portrayal of a sadistic Nazi officer in Quentin Tarantino's "Inglourious Basterds," and Mo'Nique, a monstrous parent in harrowing drama "Precious."
Mo'Nique's triumph made her only the only the fifth black actress in history to win an Oscar after Hattie McDaniel, Whoopi Goldberg, Halle Berry and Jennifer Hudson.
The 42-year-old paid tribute to trailblazing "Gone With the Wind" actress McDaniel in her acceptance speech.
"I want to thank Miss Hattie McDaniel for enduring all that she had to so that I would not have to," Mo'Nique said.
Waltz meanwhile was in raptures after collecting his statuette from Spanish siren Penelope Cruz.
"Oscar and Penelope -- that's uber bingo," a delighted Waltz said. "There's no way I can ever thank you enough but I can start right now -- thank you," Waltz added.
"Up," about an elderly gent who ties balloons to his home to live his dream of seeing the wilds of South America, took the award for best animated feature.
Earlier hosts Steve Martin and Alec Baldwin kicked off the proceedings with a wise-cracking intro which saw several nominees introduced from the audience in a revamped format to the show.
Spotting "The Hurt Locker" director Bigelow and former spouse James Cameron, Martin couldn't resist a gag.
Related Article: List of 82nd Academy Awards Nominees "She was so pleased to be nominated with (Cameron) she sent him a gift basket with a timer," Martin said.
"He reciprocated by sending her a Toyota," Baldwin chimed.