Twelve months ago US President Barack Obama's historic new year message to Iran was meant to usher in a new era between the two arch-foes, but since then the atmosphere has become even more poisoned.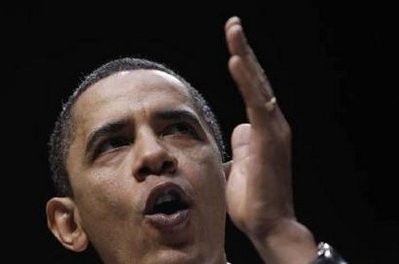 U.S. President Barack Obama at George Mason University's Patriot Center in Fairfax, Virginia, March 19, 2010. (Source: AFP)
What had been touted as a new chapter between Washington and Tehran after three decades of animosity has developed into a tense stand-off, with Obama pushing for fresh sanctions in response to Iran's defiant nuclear drive.
On Saturday, Obama blamed Iran for ignoring US efforts as he delivered his annual message marking the Nowruz new year.
"Over the course of the last year, it is the Iranian government that has chosen to isolate itself, and to choose a self-defeating focus on the past over a commitment to build a better future," Obama said.
"But our offer of comprehensive diplomatic contacts and dialogue stands."
Analysts say the "extremists" in Obama's administration also derailed possibilities of a dialogue.
"Obama's (2009) message to Iran and to Iran's leader (Ayatollah Ali) Khamenei did open a new channel, but the extremists in his administration and pressure from Israel has weakened the possibility of a dialogue," analyst Mohammad Saleh Sedghian told AFP.
After Obama's message in 2009 marking Nowruz, which falls on Sunday this year, Iranian and US officials met in The Hague at an international conference on Afghanistan.
Although US-Iran contacts were not built on, the US House of Representatives overwhelmingly approved an resolution wishing Iranians and Iranian Americans a "prosperous new year" -- the first of its kind.
Tehran's pursuit of uranium enrichment and a lack of direct US initiatives to follow up Obama's message created the current situation in which US officials tour the globe seeking support for further sanctions, say analysts.
American officials have, to a large extent, convinced Iran's long-time nuclear partner Russia to back sanctions, but China -- a veto-wielding member of the UN Security Council -- remains steadfast in opposing this.
Iranian officials blame Washington for failing to follow up on Obama's message, which they say could have included steps such as easing existing sanctions.
"If they want Iranians to have a happy Nowruz, they should stop plotting against the Iranian people, stop laying traps for Iranian nationals and they should free Iranian citizens they are holding so they can spend Nowruz with their families," foreign ministry spokesman Ramin Mehmanparast said on Tuesday.
Iran says 11 of its citizens are being held in US jails, including a nuclear scientist who reportedly went missing last year in Saudi Arabia.
Washington has also expressed frustration in recent months, saying Obama's diplomatic feelers have not been reciprocated.
The United States has criticised Tehran's clerical regime over its nuclear programme and human rights record, especially since the disputed re-election of President Mahmoud Ahmadinejad last June.
Obama's plan to engage Iran had "a profound impact on Iran internally, but an indiscernible impact on Iran's external policies," analyst Karim Sadjadpour of Carnegie Endowment for International Peace told AFP in Washington.
"The engagement failed to moderate Iran's external policies, what it intended to do, but it succeeded in widening Iran's deep internal political divides," he said, hinting at the opposition movement.
The election result turned some former pillars of the Islamic regime into its most bitter opponents, including former premier Mir Hossein Mousavi and ex-parliament speaker Mehdi Karroubi.
Ahmadinejad is Iran's most vocal leader, but Khamenei formulates external policies, and he blames "wicked" Washington and London for the post-election unrest.
But Obama said on Saturday that US will "ensure that Iranians can have access to the software and Internet technology that will enable them to communicate with each other, and with the world, without fear of censorship."
Diplomacy between Washington and Tehran froze after last September's disclosure of Iran's second uranium enrichment plant.
While Tehran maintains it revealed the site's existence to the UN nuclear watchdog on time, world powers claim there was a delay. Obama took the lead in criticising Tehran for building the facility.
Tension further heightened over a UN-brokered nuclear fuel deal for a Tehran research reactor and over Iran's decision to enrich uranium to 20 percent, theoretically edging closer to the 93 percent required to make an atom bomb.
Iran denies wanting to manufacture nuclear weapons.
"Today, Iran's refusal to reciprocate US engagement efforts has exposed Tehran as the intransigent actor in the equation, not Washington," Sadjadpour said.
But Sedghian thinks more efforts are required from both parties "in order to create confidence, which is very crucial.
"Iran's leadership should give assurances to the US and the West that it could be a reliable partner for them in solving regional issues," he said.