Iran will soon free Sarah Shourd, one of three US hikers the Islamic republic detained more than a year ago, an Iranian diplomat announced on Thursday.
"I would like to confirm that Iran will be releasing Sarah Shourd very soon," Bak Sahraei, the second counsellor to the Iranian mission at the United Nations, said in a statement sent to AFP.
Previously, Iran's Ministry of Culture and Islamic Guidance said "one of the Americans" would be freed at 9:00 am (0430 GMT) on Saturday at Hotel Esteghlal in Tehran, without identifying the detainee.
A ministry official said the release ceremony would be overseen by one of the vice presidents of Iran, but the statements did not elaborate about the reasons for the decision.
Shourd, 31, was arrested along with fellow US hikers Shane Bauer, 27, and Josh Fattal, 27 on July 31, 2009 after straying across the border from neighbouring Iraq.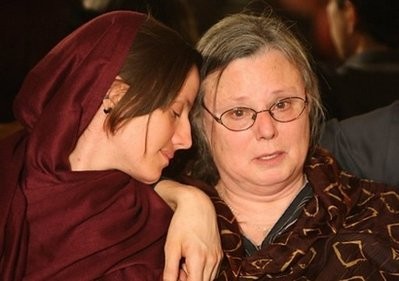 Detained US hiker Sarah Shourd (L) sits with her mother Nora during their first meeting since her arrest, in the Iranian capital Tehran in May 2010
Her mother Nora told AFP last month that Sarah was being held in solitary confinement despite suffering from a pre-cancerous cervical condition, a lump in her breast and depression.
A release on Saturday would coincide with the end of Ramadan and the anniversary of the September 11, 2001 attacks on the United States.
It also comes with Tehran under mounting international pressure over the case of Sakineh Mohammadi-Ashtiani, a 43-year-old mother of two sentenced to death by stoning by an Iranian court for adultery.
The mothers of the three hikers, who Iran accuses of spying and entering the country illegally, earlier voiced hope that news that one of them would be released signalled the end to their battle for freedom.
"We have seen the news reports and are urgently seeking further information," their mothers said in a joint statement.
"We hope and pray that the reports are true and that this signals the end of all three of our children's long and difficult detention," said the statement signed by Cindy Hickey, Nora Shourd and Laura Fattal.
"Shane, Sarah and Josh are all innocent and we continue to call for their immediate release, so that they can return home together and be reunited with our families."
The United States reiterated its call for arch-foe Iran to free all three hikers.
The White House said it was checking the veracity of reports on the planned release with the Swiss government, which has represented US interests in Iran since the aftermath of the 1979 Islamic revolution.
"These are three innocent children, innocent kids who committed no crime, all three of whom should be released and released immediately by the Iranian government," White House spokesman Robert Gibbs said.
California Senator Dianne Feinstein, who has met with the hikers' families, welcomed Shourd's release in a statement, saying "these hikers are all innocent and have no intelligence connection whatsoever."
"My hope is that the remaining two hikers will also be released shortly," she added.
Iranian authorities arrested Bauer, Shourd and Fattal on July 31, 2009.
The three insist they entered the Islamic republic by mistake after getting lost during a hike in Iraqi Kurdistan.
Several top US officials, including President Barack Obama and Secretary of State Hillary Clinton, Nobel Prize winners and international rights groups have repeatedly urged Iran to release the hikers.
Last month, Iran's Intelligence Minister Heydar Moslehi said an investigation on the American detainees was nearing completion.
"The investigation into these three persons is close to being completed and when completed the results will be announced," Moslehi said.
Nora Shourd said last month that she had received an unexpected call from her daughter complaining she had been denied medical care for five months.
She said Sarah's case amounted to psychological torture. In May, Iran had allowed the mothers of the trio to visit them. The mothers later reported that Shourd and Bauer had become engaged behind bars.
On the eve of the one-year anniversary of their arrest, Obama issued a plea for their immediate release, saying they had never worked for the US government and committed "absolutely no crime."
Iran and Western powers, led by the United States, are at loggerheads over Tehran's nuclear programme. The West suspects Iran is masking a weapons drive under the guise of what Tehran says is a civilian atomic programme.
International rights group Amnesty International also urged the trio's release in May, saying it appeared that the Iranian authorities did not have substantial grounds to prosecute them.