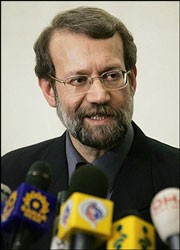 The head of Iran's Supreme National Security Council Ali Larijani (AFP Filed Photo)
"If you decide to use sanctions against us, our relations with the agency will be suspended," Iran's top nuclear negotiator Ali Larijani told a conference on nuclear energy in Tehran, referring to the International Atomic Energy Agency.
The warning came ahead of Friday's deadline set by the UN Security Council for Iran to freeze uranium enrichment, at the centre of concerns the country could acquire nuclear weapons.

Iran's top national security official also vowed that his country will "hide" its nuclear programme if attacked.
"Military action against Iran will not lead to the closure of the programme. If you take harsh measures, we will hide this programme. Then you cannot solve the nuclear issue," Ali Larijani warned.
"You may inflict a loss on us but you will lose also," he told a conference on the Islamic republic's controversial nuclear energy drive, seen in the West as a cover for weapons development.