Iran could abandon a nuclear fuel deal, which it says recognises Tehran's right to enrich uranium, if world powers do not accept it in full, parliament speaker Ali Larijani said on Saturday.
"Parliament backs the Tehran Declaration (on a fuel swap deal) in its entirety. If they seek to consider it partially, the house will not accept that," Larijani said, quoted by the state IRNA news agency.
"It will not be compatible with the Tehran Declaration if they have extra demands and pursue deception," he said, without elaborating.
A deal brokered this week by Brazil and Turkey to ship half of Iran's low enriched uranium (LEU) to Turkey for a swap with reactor fuel recognises Tehran's right to enrich uranium for peaceful purposes, according to a joint declaration carried by Iranian media.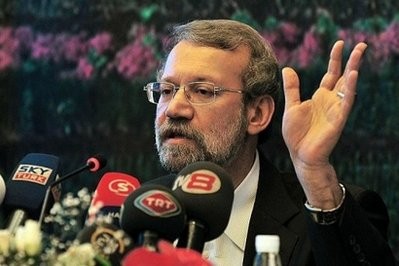 Iran could abandon a nuclear fuel deal, which it says recognises Tehran's right to enrich uranium, if world powers do not accept it in full, parliament speaker Ali Larijani, pictured on May 11, said on Saturday
But the UN Security Council has called on Iran to halt uranium enrichment in five resolutions, and world powers led by the United States are seeking further sanctions against Tehran over its defiance.
Larijani insisted the deal has "things to offer for us and for the other party, and it is a logical framework for talks."
The comments came after his deputy Mohammad Reza Bahonar also warned Iran would pull out of the fuel deal if the UN Security Council slaps further sanctions on the Islamic republic over its continued uranium enrichment.
Washington and its Western allies have been dismissive of the new deal, saying it does not address international concerns about Iran's nuclear programme.
But a spokesman for Brazilian President Luiz Inacio Lula da Silva, a driving force behind the deal, said on Saturday that the agreement contained "to a great extent" provisions that US President Barack Obama suggested in a letter sent to Lula two weeks ago.
Influential cleric Akbar Hashemi Rafsanjani had earlier denounced Western reactions to the deal and their push for sanctions, saying "Iran is very serious and determined" in its pursuit of nuclear technology.
"Hostile countries headed by America should have welcomed Iran's recent diplomatic move, which can still accommodate international discussions," the former president was quoted as saying on the state television website.
"They should be aware that Iran will not back down on its right in the face of threats, intimidation and psychological warfare."
Tehran denies seeking to make nuclear weapons through enrichment and insists it has the right to enrich uranium to produce fuel as a signatory of the nuclear Non-Proliferation Treaty.
However, Tehran sparked international concern in February by stepping up its enrichment level to 20 percent -- still much lower than bomb grade.
On Tuesday, the United States submitted a draft UN resolution calling for an international clampdown on Iranian banks, shipping and business dealings that could be linked to its nuclear activities.
The draft has the backing of all five of the veto-wielding permanent members of the Security Council, including the usual standouts China and Russia, according to Washington.
On Monday, Iran will formally notify the International Atomic Energy Agency (IAEA) of the deal and has said it awaits a swift response from world powers.
To help resolve the long-running nuclear standoff, the IAEA made a proposal to Iran last October to ship most of its LEU out of the country in return for higher grade reactor fuel to be supplied by Russia and France.
Iran stalled on the deal, insisting it wants a simultaneous swap on its own soil, which was rejected by world powers.
Brazil and Turkey, which are among the 10 non-permanent Security Council members, have urged world powers to consider their agreement with Tehran and drop the drive for new sanctions.