A defiant Iran started on Saturday loading fuel into its Russian-built first nuclear power plant, in the face of stiff opposition from world powers to its controversial atomic programme.
After more than three decades of delay, engineers finally began loading the Russia-supplied fuel into the plant in the southern port of Bushehr, in the presence of International Atomic Energy Agency (IAEA) inspectors.
"Despite all pressures, sanctions and hardships forced by Western nations, we are witnessing Iran's peaceful nuclear activities through the start of the Bushehr power plant," Iran's atomic chief Ali Akbar Salehi told a news conference in Farsi comments translated by English-language Press TV.
"This is the symbol of the heroic Iranian nation's resistance and determination in achieving its goals," he said, adding that the plant's construction came after "lots of ups and downs."
Western nations led by Washington suspect that Iran's nuclear programme masks a weapons drive, a charge strongly denied by Tehran.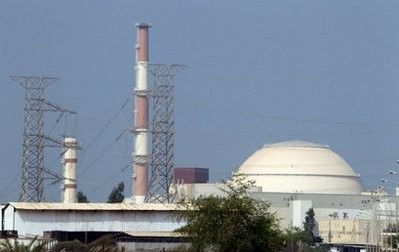 The reactor at Bushehr nuclear power plant is seen southern Iran on August 20, 2010
Salehi's Russian counterpart Sergei Kiriyenko said the "countdown" for the actual running of the plant had begun on Saturday.
"Today is a great day and we have entered the physical launch of the Bushehr plant," Fars new agency quoted Kiriyenko as saying in Russian when the fuel loading began.
Kiriyenko later told the news conference the construction of the plant was done under the supervision of IAEA inspectors, adding that any "country which sticks by IAEA norms and safety regulations has the right to peaceful nuclear technology."
"For us it (completion of Bushehr plant) is a proof of Russia meeting its obligations."
The much-anticipated fuel loading comes despite the fact that Moscow, a long-time nuclear ally, has hardened its position on Tehran's nuclear programme.
In June, Russia backed a fourth round of UN sanctions against Iran over its uranium enrichment, the most controversial part of its atomic programme.
Iran says it is enriching uranium to power nuclear reactors so it can eventually generate electricity of around 20,000 megawatts.
Despite being OPEC's second-largest crude oil exporter and having the world's second largest gas reserves, Iran insists it needs nuclear power for when its fossil fuels eventually run out.
Fresh doubts over Bushehr were also raised after Russian President Dmitry Medvedev said on July 12 that Tehran was close to attaining the potential to build a nuclear weapon.
But on Saturday, Salehi thanked Moscow.
"I should thank the great nation of Russia and respect the Russian government for playing a very effective role in launching the Bushehr plant... which is an important symbol of cooperation between the two nations," he said.
Last week, Salehi said the entire transfer of fuel into the reactor would be complete by September 5.
On Friday, Iranian Atomic Energy Organisation spokesman Ali Shirzadian said the one-billion-dollar plant's actual commissioning would come in October or November when the electricity it generates connects to the national grid.
On Wednesday, Russian Foreign Minister Sergei Lavrov said the Bushehr plant would keep Iran "within the regime of non-proliferation."
Russia has supplied 82 tonnes of fuel for Bushehr, but plans to take back the spent material to avoid any misuse.
Mark Fitzpatrick, an expert in non-proliferation at London's International Institute for Strategic Studies, said Bushehr is not a proliferation risk "as long as it is run to produce power for electricity generation."
"It would be a risk if Iran operated it differently, i.e. for short periods at low-burn up in order to produce weapons-usable plutonium -- but in this case the IAEA would know," he said.
Work on the Bushehr plant, which is not targeted under UN or other sanctions, began in the 1970s under the rule of the US-backed shah using contractors from German firm Siemens.
The project was shelved when the shah was toppled in the 1979 Islamic revolution, and was revived a decade later under current supreme leader Ali Khamenei.
In 1994, Russia agreed to complete its construction, but since then "technical problems" and squabbling between Moscow and Tehran delayed its completion.
Kiriyenko said on Saturday that the Bushehr plant was a "unique project which has no equivalent in the world as several equipment were installed on top of the equipment installed by the Germans."
Bushehr has always been seen as a potential target in the event of a military strike by Iran's arch-foes the United States and Israel which have never ruled out military action against Tehran's nuclear programme.