Iran's top nuclear negotiator Ali Larijani has said the nation's armed forces are ready to face any threat to its nuclear installations, local media has reported.
"The Islamic republic's armed forces are completely ready to confront any probable threats by the enemies," Larijani was quoted as saying Thursday after meeting top clerics in the religious center of Qom.
However, he downplayed the possibility of Iranian nuclear facilities being hit, insisting "Our enemies do not have such power."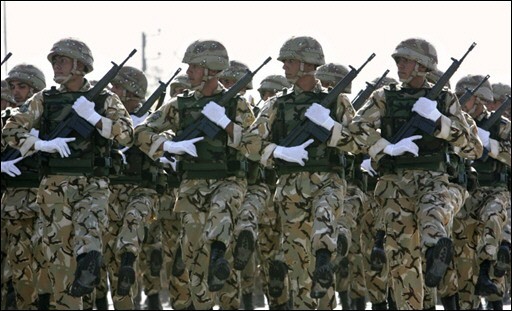 Iran forces are ready for any threat
"Our enemies have waged a psychological war in order to make us retreat from our nuclear positions," he said.
Earlier this week, Mohammad Saeedi, deputy head of Iran's Atomic Energy Organization, said a military strike on nuclear installations was highly unlikely, but that Iran had nevertheless taken the necessary precautions.
The United States and Israel, Iran's two arch-enemies, have never ruled out military action against the Islamic republic to thwart its nuclear program, which they allege is aimed at making an atomic weapon.
But US Defense Secretary Robert Gates said this week the United States did not want a conflict with Iran, and that there were many other courses of action it could take short of force.
Larijani's comments come after Washington on Friday stuck by its demand that Iran freeze uranium enrichment, a key phase of the nuclear fuel cycle, before any bilateral talks.
EU officials also said they would call next week for the full and rapid implementation of UN Security Council sanctions.
The Security Council passed Resolution 1737 on December 23 imposing sanctions on Iran for its refusal to suspend enrichment -- the process which can make nuclear fuel as well as the fissile core of an atom bomb in highly purified forms.
The West fears the Islamic republic is seeking to develop atomic weapons under the guise of a civilian nuclear energy program -- a charge vehemently denied by Tehran.
Both major US political parties have backed legislation requiring US President George W. Bush to get congressional approval for using military force against Iran.