Iran on Sunday freed a British-Greek journalist and police said they had let go most other people detained in election protests but fresh challenges were made to the outcome of the presidential vote.
Washington Times reporter Iason Athanasiadis-Fowden "who was arrested for activities contradictory to journalism and in connection with the recent street riots was freed today," foreign ministry spokesman Hassan Ghashghavi told ISNA news agency.
The Greek foreign ministry said he would leave Iran later on Sunday.
"With the help of the Greek embassy, he is to leave Tehran by the end of the day," the embassy said in a statement. He was expected to fly to Greece, where his mother lives.
Britain said it was expecting Tehran to release an eighth staffer from nine embassy employees detained for allegedly stoking post-election riots.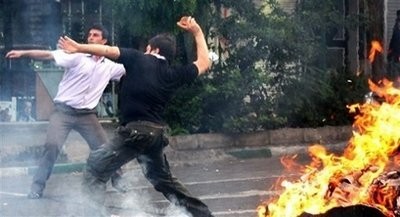 Supporters of Mir Hossein Mousavi throw stones at Iranian police during a violent demonstration in Tehran in June 2009.
Iran's chief of police Esmail Ahmadi Moghaddam said that of more than 1,000 people arrested in the post-election violence which rocked Tehran, "two-thirds have been freed," the official IRNA news agency reported.
The announcement following the June 12 poll that incumbent Mahmoud Ahmadinejad had been re-elected with more than 60 percent of the vote sparked massive street protests in Tehran and other major cities.
In the ensuing violence 20 people were killed and 1,032 arrested, according to police. Human rights groups have said as many as 2,000 were arrested.
Ahmadinejad's re-election was initially challenged by all three defeated candidates, and runner-up Mir Hossein Mousavi late on Saturday renewed his accusations that the voting process was full of "irregularities."
A 25-page report prepared by the former prime minister's campaign office accused Ahmadinejad of abusing the state machinery during the campaign and distributing cash to secure the votes of working class Iranians.
The report, posted on Mousavi's campaign website Ghalamnews, asked why the interior ministry had printed 14 million more ballot papers than the total registered electorate of some 46 million.
A pro-reform clerical group also threw its weight behind challenges to the results, in a statement made available to AFP on Sunday.
Blasting official electoral watchdog the Guardians Council, the Assembly of Qom Seminary Scholars and Researchers said the council no longer has the "right to judge in this case as some of its members have lost their impartial image in the eyes of the public."
The reformist clerics said the council "did not pay attention" to the complaints lodged by Mousavi and another defeated candidate, Mehdi Karroubi.
"The voice of people seeking justice was marred by violence which unfortunately left several dead and wounded and hundreds arrested," they said.
The post-election unrest was the worst crisis in Iran since its 1979 Islamic revolution.
However, rallies petered out after a few days as the authorities cracked down on protesters, foreign media and the British embassy in particular.
Iran expelled the BBC correspondent in Tehran, Jon Leyne, and also detained Iranian-Canadian journalist Maziar Bahari who works for the US magazine Newsweek.
Tehran expelled two British diplomats and detained nine of the embassy's local employees.
Over the past few days it has released seven of the nine, and on Sunday British Foreign Secretary David Miliband said he was told that the eighth would be freed during the day, leaving one still in custody.
"There have been developments overnight in respect of the eighth person who had been arrested," Miliband said on BBC television.
"That leaves one more in custody and all of our efforts are now directed towards getting that person out."
Lawyer Abolsamad Khorramshahi said he was seeking permission to see the embassy employee still in custody, political analyst Hossein Rassam, after being told by his family of the accusations against him.
Iranian lawyers said several other people among those arrested in the crackdown are being charged with acting against national security.
They include key figures from the reformist 1997-2005 presidency of Mohammad Khatami who oversaw a thaw in relations with the West.
Top US military commander Admiral Mike Mullen, meanwhile, said a US military strike against Iran would be "very destabilising."
Iran is at loggerheads with global powers over its controversial nuclear programme, which the West believes is aimed at producing an atomic bomb, a claim Tehran denies.
"I've been one who has been concerned about a strike on Iran for some time, because it could be very destabilising, and it is the unintended consequences of that which aren't predictable," Mullen told the Fox News Sunday television programme.