SYDNEY, July 11, 2011 (AFP) - Airlines, miners and industry launched a furious attack on Australia's bold new tax on carbon emissions Monday, as Prime Minister Julia Gillard began selling the levy to sceptical voters.
Business leaders warned the tax on the nation's 500 biggest polluters would not only cost taxpayers billions and force major industry to slash production and jobs, but would fail to reduce global carbon emissions.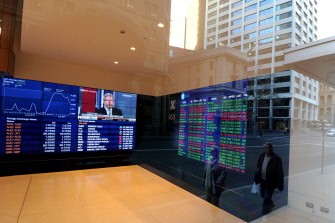 AFP - A streetscape is reflected in the window of the newly refurbished Australian Stock Exchange in Sydney on July 11, 2011 after the announcement of the new tax on carbon emissions.
The government defended the scheme, which will price carbon at Aus$23 ($24.74) per tonne from July 1 next year, saying it was the best way to help slow global warming and save natural treasures such as the Great Barrier Reef.
"At its core it really is quite simple, we at the moment put carbon pollution into our atmosphere for nothing, a big polluter can just keep chugging it up into the skies and not pay anything," Gillard said.
"The core of this is those big polluters will pay a price, they're smart business people, when a bill comes in for carbon pollution they'll say, 'How can I reduce that bill, how can I change my processes so I generate less carbon pollution?'."
Gillard said the levy, which will be offset by a package of personal tax breaks including the lifting of the tax-free threshold for workers, would slash carbon pollution in Australia, one of the world's biggest per capita emitters.
Under the plan, which is under heavy attack from the conservative opposition party, there will be a fixed price on carbon pollution until the Asia-Pacific's largest emissions trading scheme to date is launched in 2015.
As the Australian share market dipped more than one percent Monday, industry leaders rounded on the plan driven by Gillard, who had pledged during last year's election campaign not to introduce a carbon tax.
The coal industry came out with all guns blazing, warning the new tax would force mine closures and cost thousands of jobs in the industry that is one of the major drivers of Australia's mineral exports-led economy.
"It's a regrettable policy," Ralph Hillman, executive director of the Australian Coal Association, told public broadcaster ABC.
"You are going to lose jobs in Australia, we calculate about 4,700 direct jobs (through closures of existing mines), but for no cuts in emissions," he said, casting doubt on the effectiveness of the scheme.
The Minerals Council said the plan would "take a baseball bat to the Australian economy", including a Aus$25 billion hit to mining, while doing little to reduce emissions.
Managing director of Rio Tinto Australia David Peever described the reform as "an unfair tax on Australian exporters" that left them at a disadvantage compared to international rivals.
And Australia's richest woman, mining magnate Gina Rinehart said the carbon tax, along with a proposed levy on iron ore and coal, were hurting the country's competitiveness.
"Obviously the carbon tax and MRRT (minerals resource rent tax) don't help our cost competitiveness. They hurt us," Rinehart said, Dow Jones Newswires reported.
Qantas and Virgin Blue said the multi-million dollar cost of the tax would be passed on in full to their passengers while the nation's biggest employer lobby group, the Australian Chamber of Commerce and Industry, warned it would weaken the economy dubbed the "Wonder from Down Under".
But Gillard, who engaged in a vigorous election-style media blitz to sell the tax Monday, said the coal industry would not be harmed and jobs would not be jeopardised.
"There will be growth in jobs in coal," she said. "The demand for coal will continue," she said.
But the government faces a tough battle convincing voters, who polls have shown are resistant to the tax, which is expected to increase consumer prices by 0.7 percent.