KABANJAHE, Indonesia, Sept 7, 2010 (AFP) - An Indonesian volcano that returned to life after four centuries of inactivity threw an ash cloud thousands of metres into the air Tuesday in its most most violent eruption yet.
Witnesses said lava, rock, ash and gas shot into the sky from the crater of 2,460-metre (8,000 feet) Mount Sinabung in northern Sumatra shortly after midnight.
The eruption lasted five minutes and was felt about eight kilometres (five miles) away.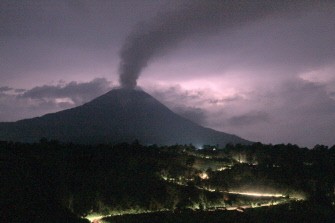 A time exposure taken at 10:11pm on September 6, 2010 shows a plume of volcanic ash rising from the crater of Mount Sinabung as seen from Tanah Karo district in North Sumatra province. AFP
"Its latest eruption was double the previous outburst and we recorded a tower of ash reaching 5,000 metres," government volcanologist Agus Budianto told AFP.
More than 20,000 people have fled their homes since the volcano first erupted late August and remain in emergency shelters.
Indonesian President Susilo Bambang Yudhoyono visited the area on Monday and asked displaced people to be patient.
"Sinabung is very active with a series of eruptions. For your safety please stay in the shelter for the time being.... I hope it will not last very long," he said.
With each new eruption, concern grows for those villagers who have stayed on the mountain to guard their homes or tend to their crops.
Anto Sembiring, 37, said his family had gone to a shelter but he had stayed to take care of their house, which is inside a six-kilometre exclusion zone around the mountain.
"I'm worried about my future. The volcano seems unwilling to stay calm," he told AFP.
"My children haven't gone to school for almost two weeks and they have to stay in the crowded shelter in unhealthy conditions."
Volcanologists said Sinabung's long dormant period had made it highly unpredictable.
The sprawling Indonesian archipelago has 69 active volcanoes with histories of eruptions and straddles major seismic fault-lines in a region known as the "Pacific Ring of Fire".
Four people disappeared last month after the 1,784-metre Mount Karangetang erupted on the island of Siau, North Sulawesi province.
Volcanoes have killed scores of thousands of Indonesians over the past 200 years, including more than 70,000 in the 1815 eruption of Mount Tomboro on the island of Sumbawa.
Mount Sinabung is near Lake Toba, a 100-kilometre long volcanic crater that some archaeologists believe was the site of an eruption that almost wiped out the human race when it erupted 69,000-77,000 years ago.