JAKARTA, July 3, 2011 (AFP) - A volcano on Indonesia's Sulawesi island erupted Sunday, spewing ash and smoke 5,000 metres into the air.
Mount Soputan in North Sulawesi province erupted at around 6:03 am (2203 GMT Saturday) but people living in the sparsely populated area have not been evacuated, Iing Kusnadi, a scientist at the volcano's monitoring post told AFP.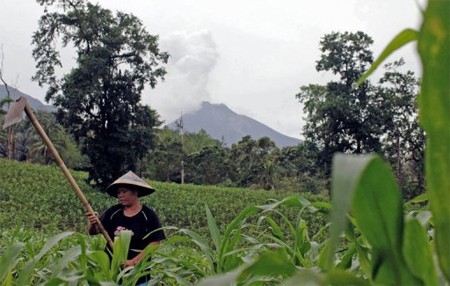 AFP - Soputan in the background
"The volcano erupted this morning. Besides spewing ash and dust particles, it also spewed hot gas but that's limited to around its crater," he said.
"The recommended evacuation zone is set at a six-kilometre radius around the volcano but there's only forest in that range," he added.
"At the moment, it is still a safe distance from people but we'll continue to monitor the activity," he added.
The nearest village is eight kilometres away on the western side of the volcano, which towers 1,783 metres (5,800 feet) over North Sulawesi province.
Soputan, one of Sulawesi's most active volcanoes, last erupted in 2008 with no fatalities recorded.
Indonesia sits on the Pacific "Ring of Fire" where continental plates collide, causing frequent seismic and volcanic activity. The archipelago nation is home to 129 active volcanoes, including 21 on Java.