An Indonesian military transport plane carrying soldiers and their families crashed into homes and erupted in flames, killing at least 97 people, the air force spokesman said.
Television footage showed the burning wreckage of the Hercules scattered in rice paddies in Magetan, East Java, about 160 kilometres (100 miles) east of Yogyakarta.
"The death toll is now 97 people and 15 injured," spokesman Bambang Sulistio told AFP.
The plane was carrying 98 passengers including soldiers and their families, among them 10 children, on a flight to the eastern province of Papua, military spokesman Sagom Tamboen said earlier.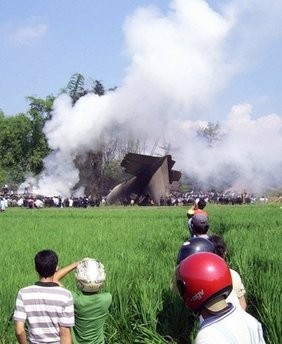 Rescuers at the crash site of Indonesian military transport plane in Magetan in East Java
Witnesses said it smashed into houses before erupting in a ball of flame and rolling into a paddy field.
"The plane hit some houses, bounced, hit the ground and then caught fire," one witness told Metro TV.
The plane's massive tail section could be seen resting upside down and badly damaged in the green rice field, but the rest of the fuselage had burned down to its metal frame.
Burning wreckage was scattered over a large area and soldiers were helping pull bodies from the wreckage and the thick mud of the paddy.
The crash occurred as the plane was preparing to land at nearby Iswahyudi military airbase on its way to Papua, but officials said the cause of the accident was unknown.
"The engines were good, the weather was good. Was it human error? We can't confirm that yet," Tamboen said.
President Susilo Bambang Yudhoyono summoned military chief Djoko Santoso and Defence Minister Juwono Sudarsono to a meeting at the state palace in Jakarta to discuss the accident.
Sudarsono said the cause of the crash was being investigated.
But he complained that the military's budget was insufficient to ensure aircraft received minimum maintenance.
"Ideally, the maintenance cost should be 20 to 25 percent of the overall military budget but at present it's below 10 percent," he told reporters.
He said he would ground all of the country's Hercules aircraft if the crash is found to have been the result of technical or mechanical failure.
It is the second accident involving an Indonesian Air Force Hercules in two weeks, after one overshot the runway of Wamena airport in Papua on May 10. One person was reportedly injured in that incident.
In response to the Wamena accident, the air force said it would check its ageing Hercules fleet which is being upgraded with airframe and engine capability improvements.
Early last month, 24 military personnel died when their Fokker 27 training aircraft careered into a hangar and burst into flames at an air base in West Java.
Indonesia is the world's largest archipelagic nation and relies heavily on air travel, but accidents are common and its commercial airlines are banned from flying in European Union airspace for safety reasons.