Thousands of Indonesians took to the streets of Jakarta on Saturday amid a heavy police presence as they demanded better social security for workers.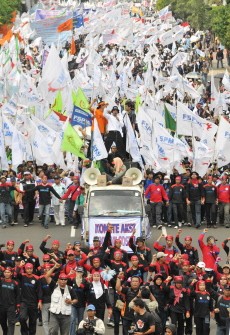 Indonesian labourers rally toward the presidential palace in Jakarta on May 1, 2010.
Police said about 15,000 security personnel had been deployed as protestors gathered in the capital's main roundabout before marching to the State Palace, shouting "Today we unite" and "Stop oppression now".
"The social security system in Indonesia is still weak," Indonesian Workers Association head Saepul Tavip told AFP.
"The system here only covers about 25 percent of the workers. The social security has to cover all workers and even small people," he said.
Muhammad Shihabudin, 26, who works in a car factory, said the marchers demanded health insurance and a pension fund throughout their lives.
"Many workers at private companies now only receive health insurance while they are still employed. But there is no health insurance after we are out of employment," Shihabudin said.
Indonesian Metal Workers Federation member Didik Suryanto, 31, called for May Day to be made a holiday.
"We contribute a lot to the country's economy and industry. The government should declare May 1 as a public holiday to honor us better," Suryanto said near the State Palace.
Protestors in front of the State Palace sang the national anthem, some marched while carrying a banner that read "Realise social justice for all Indonesians".
Workers also gathered in several major cities, such as Bandung, Medan, Yogyakarta and Makassar, reports said.
President Susilo Bambang Yudhoyono visited a Toyota car factory on the outskirts of the capital and had lunch with the hundreds of members of staff.
He urged that problems between employers and employees should be solved in a peaceful manner.
"If there are any problems, then management, union and workers should meet together to solve the case. That's much better than acts of burning, destroying, and rioting," Yudhoyono was quoted as saying by state news agency Antara.
Thousands of Indonesian factory workers set fire to cars and dockyard buildings last month in Batam city after an Indian company executive made an insulting remark. Nine people were injured from the incident.