JAKARTA, May 5, 2010 (AFP) - Indonesian Finance Minister Sri Mulyani Indrawati quit on Wednesday to take a top job at the World Bank after months spent battling politicians bent on her ouster, sending share prices plummeting.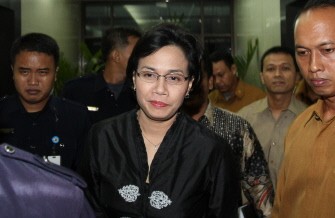 Indonesian Finance Minister Sri Mulyani Indrati (C) leaves her office in Jakarta on May 5, 2010. AFP photo
The surprise move was seen as a blow to economic reform in Southeast Asia's biggest economy and triggered a sell-off on the Jakarta stock market as analysts looked for a credible replacement for the respected technocrat.
"The news is correct. I'm still waiting for the approval of the president. For the time being, I will continue to carry out my duties at the finance ministry during this transition week," Indrawati, 47, told reporters.
Indonesia's share market closed 3.81 percent lower after Indrawati, once described as the most powerful woman in Asia, confirmed her resignation from the cabinet of President Susilo Bambang Yudhoyono.
"This is a shock to the index," Bhakti Securities analyst Reza Nugraha said.
"Investors have yet to see anyone credible to replace Sri Mulyani so they feel anxious. Shares will continue to fall for a while until investors know who will replace her."
Yudhoyono praised Indrawati and said her new role as World Bank managing director was "strategic, important and honourable".
He did not name a replacement despite revealing that he had known about the World Bank job since last week.
"I have to tell Indonesians that we have lost one of our best ministers. Sri Mulyani has worked hard to develop an accurate fiscal policy and carry out reform in the area of finance," he said.
The resource-rich country of 234 million people now has no full-time central bank governor and no finance minister as it tries to attract billions of dollars in foreign investment deemed vital to maintaining high growth.
Acting central bank governor Darmin Nasution has been tipped as a possible replacement for Indrawati.
World Bank President Robert Zoellick said Indrawati, an economist and former International Monetary Fund board member, had guided Indonesia through the global recession and earned the "respect of her peers across the world".
"She has been an outstanding finance minister with in-depth knowledge of both development issues and the role of the World Bank Group," he said.
In a World Bank press release Indrawati said: "It is a great honour for me and also for my country to have this opportunity to contribute to the very important mission of the bank in changing the world".
The independent policy expert has stayed aloof from domestic politics despite being targeted with corruption allegations from party leaders intent on wrestling control of her ministry.
Indrawati announced her resignation a day after being questioned by anti-graft investigators probing the 700-million-dollar bailout of mid-sized Bank Century in 2008. She has denied any wrongdoing.
Some analysts have traced her political problems back to 2008 when she upset the country's most powerful tycoon, Golkar party chief Aburizal Bakrie, by refusing to shield his family's Bumi Resources from a stock market sell-off.
The minister also clashed with Bakrie over unpaid mining royalties and taxes, and accused him of waging a public campaign to discredit her.
Indrawati's uncompromising attitude to corruption -- she punished almost 2,000 finance ministry personnel and dishonourably discharged at least 150 -- also made her many enemies within the bureaucracy.
Despite the controversies, she has won plaudits as one of the main reformers responsible for putting in place the economic fundamentals that made her five years as finance minister a period of strong and steady growth.