Indonesia and Russia inked a billion-dollar arms deal Thursday during a stop by President Vladimir Putin that will see the world's fourth most populous nation snare a range of Moscow-financed hardware.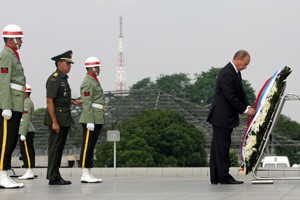 Russia's President Vladimir Putin (L) attends a ceremony at Kalibata hero cemetary in Jakarta, September 6, 2007. (AFP Photo)
Under the agreement, Russia is providing a billion-dollar line of credit for Jakarta to use to buy its helicopters, tanks and submarines over the next 15 years, officials have said.
The deal was among a slew of agreements set to be signed -- including deals on energy and mining -- during Putin's one-day visit to Indonesia, the first by a Russian leader in nearly five decades.
The Russian president, accompanied by a large delegation of energy, banking and weapons industry representatives, met with his Indonesian counterpart Susilo Bambang Yudhoyono ahead of the signing of the agreements.
"The president Yudhoyono will talk about bilateral matters, especially how to step up economic cooperation in trade and investment," Yudhoyono's spokesman Dino Patti Djalal said earlier, adding that defence cooperation was also on the agenda.
The pair were later due to give a press conference.
The arms agreement follows Indonesia's signing of a deal to buy six Sukhoi-30 fighter planes at a Moscow airshow last month and is seen as a move to help it reduce its dependence on US weaponry.
Military relations between Jakarta and Washington have been improving after a long period in which they were suspended.
Kusnanto Anggoro, a political and military affairs analyst with the Centre for Strategic International Studies said the deal "is a concrete move in diversifying our sources for military equipment."
About a third of the overall amount would go on equipping the Sukhoi planes and the remainder would go towards buying 22 helicopters, 20 amphibious tanks and two submarines, he said.
Among other deals on the table were an agreement between Indonesian state energy firm Pertamina and Russia's Lukoil for a 1.5-billion-dollar investment in deep water oil-and-gas exploration projects.
Indonesia's state nickel miner Antam and Russia's Rusal were to ink a memorandum of understanding to set up a joint venture that will manage a bauxite mining project in West Kalimantan, expected to cost around 4 billion dollars.
Putin is slated to address the Indonesia-Russia business forum and attend a banquet before flying to Sydney for the Asia-Pacific Economic Cooperation (APEC) summit. He is then due to fly to the United Arab Emirates.
The leader's tour is seen by analysts as part of a Kremlin strategy of expanding diplomatic influence in Asia and the Middle East on the back of Russia's thriving arms trade and growing importance as an energy power.
Putin's visit reciprocates a trip to Russia by Yudhoyono in December 2006.
Trade between the two nations is relatively modest, with Russian exports largely limited to defence and Indonesia mainly exporting agricultural commodities in return.
Indonesian non-oil and gas exports to Russia totalled 273 million dollars in 2006 and equivalent Russian imports were worth 416 million dollars.
Reportedly accompanying Putin was the chairman of Lukoil, Vagit Alekperov, billionaire investor Vladimir Yevtushenkov, the head of the Russian nuclear agency Rosatom, Sergei Kiriyenko, and other business leaders.