Indonesian President Susilo Bambang Yudhoyono is expected to adress the nation Thursday after parliament called for a criminal probe into a controversial bank bailout two years ago.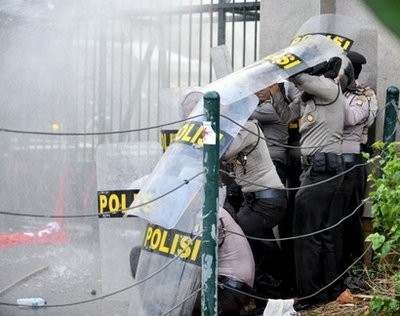 Indonesian policemen use their shields during a protest against Indonesian President Susilo Bambang Yudhoyono in Jakarta. (AFP Photo)
"The president will deliver a speech at 8 pm (1300 GMT) at the state palace," presidential spokesman Julian Aldrin Pasha was quoted as saying by Detikcom news website, without giving any further details.
More than half the country's lawmakers voted Wednesday for an investigation into Vice President Boediono and Finance Minister Sri Mulyani Indrawati for authorising a 724-million-dollar rescue package for Bank Century in 2008.
The two most respected economic figures in Yudhoyono's cabinet have been under intense pressure after the country's top auditor last year found strong indications of "violations" in the bailout.
The 325 lawmakers in the 560-seat parliament accused the pair of "abuse of power" in the bailout, which they say caused huge losses for the state.
The decision, backed by the government's coalition partners Golkar and the Muslim-based Prosperous Justice Party, will put Yudhoyono in a difficult position as it will force him to decide between retaining his two colleagues or preventing his coalition from disintegrating.
Yudhoyono, a liberal ex-general, was re-elected in 2009 on promises to root out corruption, which riddles every aspect of Indonesian public life from the courts to the customs office.
Indonesians have staged demonstrations over the bailout, and on Tuesday stick-wielding protesters hurled stones and bottled water at police, who responded with tear gas and water cannon.