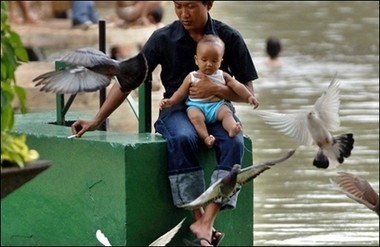 An infant looks at pigeons fly around at a public park in Jakarta (AFP Photo)

A woman undergoing hospital treatment in Indonesia has bird flu, the country's second confirmed case of the feared disease this year and its 76th overall, a senior health official said Tuesday.
"The woman, 37 years, come from Serpong and had become ill after cooking and eating a chicken she had bought live at a local market on December 30," government health official I Nyoman Kandun told AFP.
She sought treatment at various clinics but was only hospitalized on January 6 and moved to the Persahabatan hospital here on Monday.
"She is the 76th confirmed infection case," Kandun said.
A 14-year-old boy undergoing treatment at the same hospital has also been declared to be infected with bird flu.
Kandun said five other patients showing bird flu symptoms were being monitored but tests on their samples had not yet been completed.
Indonesia has recorded 57 confirmed bird flu deaths, the highest in the world so far.
The H5N1 virus strain of the bird flu has killed more than 150 people worldwide since late 2003, and triggered the mass slaughter of tens of millions of poultry. There are fears it could mutate into a form that could cause a human flu pandemic.
Officials had said the country's strategy of vaccinating poultry and increasing public awareness appeared to be paying off and that Indonesia was aiming at zero cases of human bird flu this year.