Indian police have identified three suspects in Wednesday's bombing attacks in Mumbai through a closed circuit TV footage in the Opera House area of the city, which was hit by one of three bombs, reported the local daily The Hindustan Times on Friday.
The footage showed three persons moving around in the area for an hour, said the report.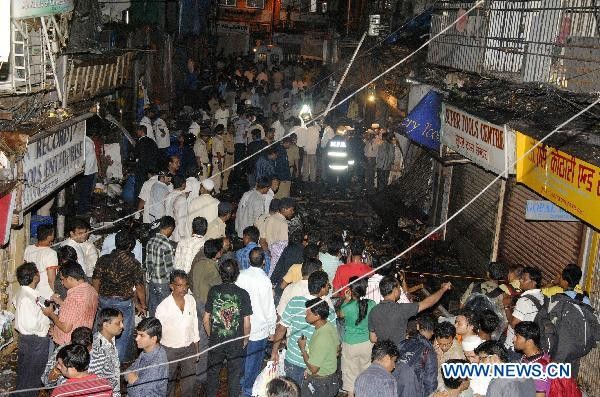 People gather at the blast site in south Mumbai's Zaveri Bazaar, near the famous Mumbadevi temple, India, July 13, 2011
The three walked about separately and gave no indication of knowing each other, the report quoted an unidentified investigator as saying.
"They looked out of place," the officer said, adding that they were seen using mobile phones.
The report also said security agencies have been aware of the presence of some Indian Mudjahideen (IM) operatives in Mumbai for the last one month.
The IM is a home-grown militant group which held responsible for a number of other terrorist attacks in India over the past several years.
Security agencies were also trying to identify the motive for Wednesday's blasts, which could have been in retaliation for the arrest of 10 IM operatives from the central Indian state of Madhya Pradesh in June.