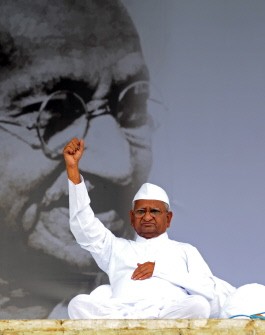 AFP - Indian social activist Anna Hazare gestures to supporters during his hunger strike at Ram Lila Grounds in New Delhi on August 20, 2011
NEW DELHI, Aug 20, 2011 (AFP) - Indian Prime Minister Manmohan Singh on Saturday struck a conciliatory note towards a popular anti-corruption protest movement that has rocked the government.
"We are open to discussion, dialogue, we would like a broad national consensus to emerge," he told reporters. "There is a lot of scope for give and take."
The protesters, led by hunger striker Anna Hazare, have demanded that the anti-corruption Lokpal bill currently before parliament is strengthened, but Singh had previously dismissed Hazare's tactics as undemocratic.
"We must all work together to push forward the case for a strong and effective Lokpal and whatever obstacles come in the way we should remove them," he said, after acknowledging that parliamentary procedures took time.