NEW DELHI, Sept 23, 2010 (AFP) - Indian Prime Minister Manmohan Singh has convened a meeting Thursday of leading ministers involved in the organisation of the crisis-hit Commonwealth Games, his office told AFP.
Urban Development Minister Jaipal Reddy and Sports Minister M.S. Gill have been called to the premier's residence at 5:00 pm (1130 GMT), a senior official in his office told AFP on condition of anonymity.
"The Commonwealth Games is the only point of discussion on the agenda," he added.
The Commonwealth Games Federation (CGF), the event's international body, went public on Tuesday with complaints about the "seriously compromised" athletes' village and called for intervention from the government.
Since then, a number of senior officials, including the country's most senior bureaucrat and staff from the prime minister's office, have visited the village, which was described as "unfit for human habitation" by one country.
The Indian premier is also expected to meet CGF president Michael Fennell over the next few days.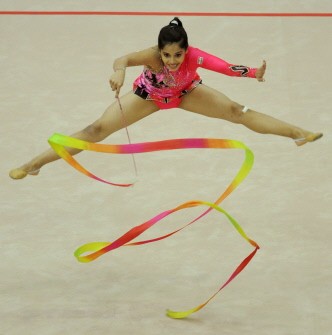 Akshata Shete of India competes with the ribbon during the 30th Rhythmic Gymnastics World Championships in Moscow on September 22, 2010. AFP
Singh intervened personally on August 15 when he gave "overriding powers" to a panel of government secretaries to take over management of the Games, which were mired in delays and corruption allegations.
The move was seen as a direct slight to the chairman of the Games organising committee, Suresh Kalmadi, who faced many calls to resign amid the rising scandals.
Singh promised that the Games would be a "proud moment," adding that no stone would be left unturned "to make it a success."
"The successful organisation of the Commonwealth Games would be another signal to the world that India is rapidly marching ahead with confidence," the prime minister said in his annual Independence Day address in August.