India plans to control up to 10% of commercial space launches in the world within five years, the director of the Indian Space Research Organization said Monday.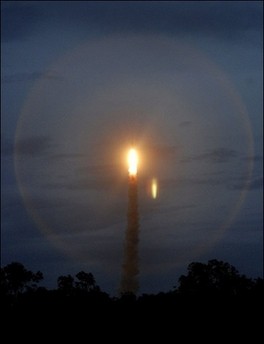 The rocket carrying Insat-4CR satellite blasts off from Sriharikota space station in southern India Sep. 2 (AFP Photo)
Madhavan Nair said his country intends to capture 5-10% of the market within the next five years, referring to the launch of satellites with a weight of over two tons.
On Sunday, India successfully launched its latest communication satellite, a development that will boost the Direct-to-Home services and digital networking in the country, according to The Press Trust of India.
The Geosynchronous Satellite Launch Vehicle-F04 placed the 2,130-kilogram (4,600-pound) satellite into a Geosynchronous Transfer Orbit (GTO) at an altitude of 248 kilometers (150 miles) about 17 minutes after liftoff.
"It has been an excellent performance of the launch vehicle. There have been a number of critical moments on this happy occasion," PTI quoted Nair as saying.
INSAT-4CR is a replacement of its earlier version INSAT-4C that was destroyed July 10 last year when the launch vehicle GSLV-F02 crashed 56 seconds after liftoff due to the malfunctioning of a booster motor.