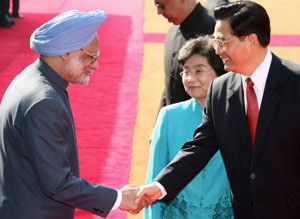 Chinese President Hu Jintao (R) and his wife Liu Yongquing (C) are welcomed by Indian Prime Minister Manmohan Singh during an official welcoming ceremony at the Presidential Palace in New Delhi, Nov. 21, 2006.
Chinese President Hu Jintao said Tuesday that Beijing and New Delhi are friends and that he hoped his landmark visit to India would increase mutual trust and chart a course for future ties.
India and China are friends, the president was quoted as saying by the Press Trust of India in his first public comments since arriving late Monday.
"The purpose of my visit is to strengthen friendship, increase mutual trust, expand cooperation and chart a course for future," Hu said at a welcoming ceremony given by Indian President Abdul Kalam.
"I am looking forward to in-depth discussions with Indian leaders on bilateral matters and issues of shared interests," he said.
Hu, making the first trip to India by a Chinese leader since a visit by his predecessor Jiang Zemin in 1996, was Tuesday lined up for meetings with Indian Prime Minister Manmohan Singh as well as President Abdul Kalam.
The visit comes amid booming trade between the two Asian power-houses -- expected to reach 20 billion dollars this year, a jump of 37.5 percent from 2005 -- as well as efforts to ease lingering tensions surrounding border disputes.