Japan's economy looks set to endure a "modest" slowdown as economic problems hamper the United States and as global stock markets continue to be plagued by turmoil, an IMF report warned Tuesday.
In an annual review of the world's second-largest economy, the International Monetary Fund said Japan has shown resilience to the US slowdown and global market jitters, partly because of the low exposure of Japanese banks to the ailing US mortgage market, but said it was being buffeted by trade shortfalls and "weakening" consumer confidence.
"We see the economy in Japan clearly slowing down," said Daniel Citrin, the IMF's deputy director and mission chief for Japan.
IMF economists expect Japan to experience a so-called economic "soft landing," but they said that further global economic turbulence could affect this outlook.
The Washington-based multilateral institution forecasts that Japan's economic growth will cool to 1.5 percent this year, compared with annualized gross domestic product (GDP) growth of 2.1 percent in 2007 and 2.4 percent in 2006.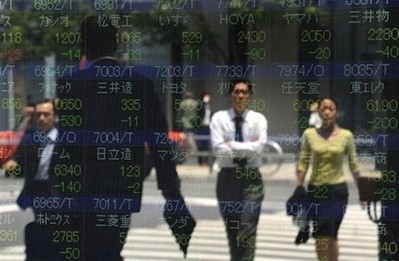 Pedestrians are reflected on a electronic quotation board flashing share prices of the Tokyo Stock Exchange in front of a securities company in Tokyo,
Citrin
, talking to reporters on a conference call, said Japan's economy struggled for momentum during the second quarter of this year, but predicted that growth would pick up modestly during the second half of 2008.
Economists have been keeping a nervous watch on Japan's economy to see if it has been impacted by slowing US growth, which has been weighed down by a sharp housing market slump, a credit squeeze and soaring world oil prices.
America is a vital export market for Japanese goods and many large Japanese firms, such as Toyota and Sony, have a big presence in the world's largest economy.
The IMF said that demand from countries other than the United States, particularly in Asia, had helped prop up Japanese exports this year.
The international financial watchdog also said the spike in oil and other
commodity prices over the past year could present a risk to Japanese growth.
Japan is vulnerable to oil price shocks because it imports all the oil consumed by its voracious economy.
Asked how rocketing fuel costs have impacted Japan, Citrin replied:"It's had a big impact."
Oil prices streaked to record highs over 147 dollars a barrel earlier this month, but have since moderated to around 122 dollars on international markets.
Private economists have voiced increased concern recently about mounting inflationary pressures in Japan which are unsettling consumers.
Japan's core inflation rate hit 1.9 percent in June, the fastest pace since January 1998 when consumer prices rose 2.0 percent, according to a government report Friday. It was the ninth straight monthly increase in prices.
The IMF meanwhile praised the Bank of Japan (BoJ) for its liquidity operations, saying its proactive stance had helped underpin the country's financial markets during global market turmoil.
The BoJ has kept interest rates pegged at 0.50 percent since February. BoJ chief Masaaki Shirakawa said earlier this month that the Japanese economy was slowing, but predicted it would avert a recession.
The losses of commercial Japanese banks, who invested in US mortgage securities, have risen to eight billion dollars, but such losses pale in comparison to the vast losses sustained by some US banks, a small number of which have gone out of business this year.
The IMF said the profits and capital held by Japan's banks should enable them to comfortably absorb the eight billion dollars in losses endured so far by their exposure to the US housing downturn.
Citrin added that the economic policies of Japan's government had been "broadly appropriate."