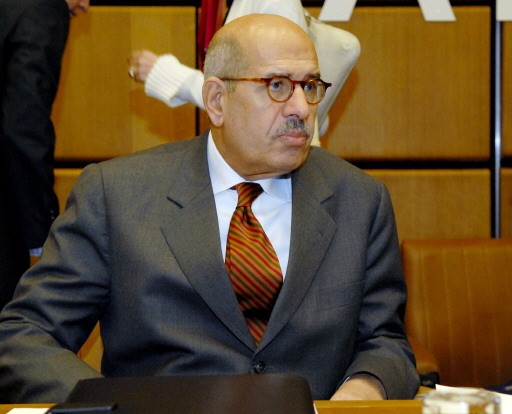 International Atomic Energy Agency's (IAEA) Director General Mohamed El Baradei (AFP Photo)

The UN atomic agency was moving at a meeting that opened Monday to heed US and European calls to put off helping Iran build a nuclear reactor that could provide plutonium for nuclear weapons.
The leadership of the International Atomic Energy Agency (IAEA) had "no intention of cooperating (on the Arak reactor) while Iran is out of compliance with United Nations Security Council resolutions", a Western diplomat told AFP.
The diplomat was referring to resolutions which threaten sanctions to get Tehran to rein in its nuclear program.
The IAEA's 35-nation board of governors briefly met Monday but then adjourned for back-door negotiations in order to seek a consensus.
France was pushing for guarantees that the heavy-water reactor under construction at Arak, 200 kilometres (120 miles) south of Tehran, would not be a proliferation risk.
Non-aligned states were anxious to protect the principle of the transfer of peaceful nuclear technology to developing countries.
Diplomats said the compromise being hammered out was to to defer a decision on aiding Iran rather than outright rejecting such technical cooperation.
A senior European diplomat told AFP the key was that "aid to Arak will not go ahead."
"This is not a project we feel should be in any way helped or aided," the diplomat said.
Iran is asking the IAEA's 35-nation board of governors meeting in Vienna for technical help in guaranteeing safety at Arak.
But given "the widespread mistrust of Iran's nuclear program and the risk of plutonium being diverted for use in weapons, the United States and other board members cannot agree to have the IAEA assist the project at Arak," US ambassador to the agency Gregory Schulte said last week.
The IAEA had in February asked Iran to "reconsider" building the Arak reactor.
This was re-stated in a UN Security Council resolution in July, which also called on Iran to suspend making enriched uranium, which like plutonium can be fuel in civilian reactors but used in highly enriched form to make atom bombs.
The Council is now working on a resolution to impose sanctions on Iran, as Tehran has refused to suspend uranium enrichment.
Schulte said the Arak reactor "could produce enough plutonium for one or more nuclear weapons a year."
Iran says it is building the 40-megawatt, heavy-water reactor, which is expected to be ready by 2009, to produce medical isotopes and to replace a smaller, ageing, five-megawatt light-water reactor in Tehran which came online in 1967.
The IAEA board will from Monday to Wednesday finalize its proposals for technical cooperation, with 832 projects under consideration, and then decide on them in a session Thursday and Friday.