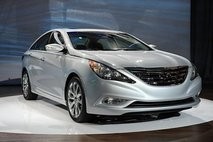 (AFP file) A Hyundai Sonata 2.0T
WASHINGTON (AFP) – South Korea's top automaker Hyundai Motor is recalling nearly 140,000 of its Sonata sedans in the United States due to a steering problem, US authorities said.
The company is recalling 139,500 2011 model-year vehicles due to the problem in which "the driver could experience a loss of, or reduction in, steering capability increasing the risk of a crash," the National Highway Traffic Safety Administration said.

The recall is expected to begin in October, the NHTSA said on its website on Sunday.
The NHTSA said that dealers "will inspect the steering column intermediate shaft universal joint connections for proper assembly and torque," and will update the power steering software.
It is not the first time that the Sonatas have experienced mechanical trouble.
On February 24 the company said it was recalling 47,300 of its latest Sonata sedans in the United States and the domestic market due to a possible door lock problem.
Separately, Hyundai ordered the recall of more than 500 Tucson sport utility vehicles in the United States in early March due to potentially defective airbags.
Hyundai, in an emailed statement, said it was acting voluntarily to ensure safety. It said it knew of fewer than 10 vehicles with improperly assembled or loose universal joint connections and no accidents had occurred as a result.
Auto analysts said the damage to the carmaker's reputation would be limited.
Park Hwa-Jin, of Shinyoung Securities, said in a website report that the recall was ordered before any accident had occurred and the cost of fixing the problem would be relatively small.
Park said the exercise would have little impact on overall sales of the Sonata in the United States or the company's earnings.
Park Sang-Won of Eugene Investment and Securities said the problem could be fixed in a day and stemmed from improper assembly, not a fundamental flaw in components.
"The voluntary recall will minimise potential fallout."
The recall comes at a sensitive time for the global auto industry after Japan's Toyota was forced to recall millions of vehicles worldwide earlier in the year.
Hyundai's US auto sales rose 8.3 percent to 435,064 in 2009, giving it a market share there of 4.2 percent compared to 3 percent in 2008.
The company's overseas plants account for about half of Hyundai's total sales.
Hyundai and its affiliate Kia Motors together form the world's fifth largest automaking group and have been pushing hard in recent years to improve quality.
But on September 7 the head of Kia Motors resigned to take responsibility for the global recall of 85,900 vehicles over faulty electrical wiring.