NEW YORK, Sept 10, 2010 (AFP) - About 2,000 people rallied late Friday near Ground Zero in New York to support a proposed mosque at the center of a bitter national debate over the role of US Muslims.
Protestors, many holding lighted candles, said those trying to stop construction of a mosque near the site of the September 11, 2001 attack on the World Trade Center were demonizing Muslims and undermining fundamental US rights.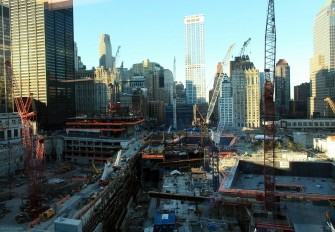 A view of Ground Zero in lower Manhattan on September 11, 2010 in New York. AFP
"We stand together to rebuff the stereotypes," Susan Lerner, New York director of the rights group Common Cause, told the crowd. "We reject the idea that any neighborhood in our great city is off limits to any particular group."
The rally preceded another support rally and one in opposition to the mosque that were both due to be held Saturday on the ninth anniversary of 9/11.
The rallies broke an unofficial taboo against politicization of 9/11 anniversaries and came against the backdrop of Florida pastor Terry Jones' threat to burn the Koran if the mosque was not moved.
Protestors late Friday said the attempt to prevent the planned Islamic cultural center and mosque from being built two blocks from Ground Zero meant equating all Muslims with the Islamist terrorists in 9/11.
"The important thing here in New York is that it's not really about Ground Zero -- it's about the rising tide of Islamophobia. It's a form of racism that is suddenly OK," said Rebecca Vilkomerson, director of Jewish Voices for Peace.
Another protestor, software researcher Eric Lazarus, said the most important issue was defending the US constitution's protection of religious freedom, meaning that Muslims have as much right as any religion to establish a house of worship at any location.
"The government doesn't mess with religion," he said.
A large police presence monitored the rally which took place a block from the proposed Islamic center, although that street was barricaded off.
9/11 remembrance ceremonies were due to start early Saturday, followed by the mosque rallies nearby.