Hundreds of Palestinians clashed with police in several east Jerusalem neighbourhoods early Tuesday amid heightened religious and political tension in the Holy City.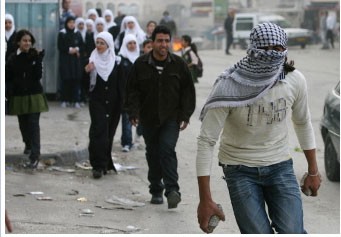 Palestine school girls stands behind a masked protester in Jerusalem on March 16,2010. (AFP Photo)
Police fired rubber bullets and stun grenades at protesters in the Shuafat refugee camp who hurled rocks at security forces. The Palestinians dispersed after army troops moved in.
Similar clashes broke out in other parts of east Jerusalem.
Police said they deployed 3,000 policemen across the city.
The reopening of a landmark synagogue in Jerusalem's walled Old City on Monday further fuelled tension following several weeks of clashes.
The government's announcement last week of plans for new Jewish settler homes in mainly Arab east Jerusalem infuriated the Palestinians, as well as the US administration that had sent Vice President Joe Biden to the region to promote new Middle East peace talks.